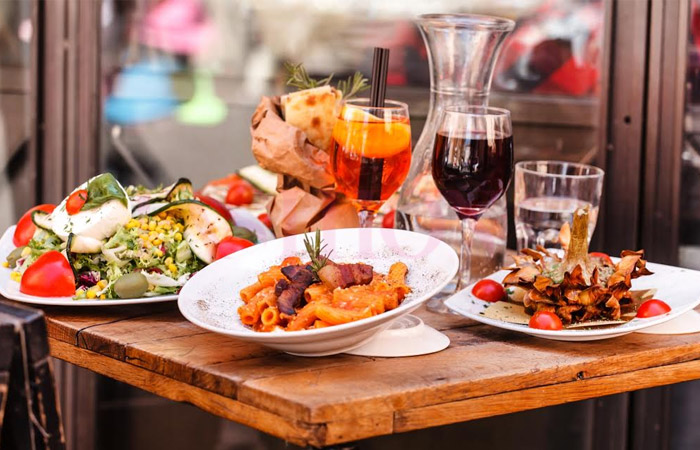 Mumbai, February 2017: Cuisine is considered no less than an art in Italy with great chefs attaining mini celeb status. Saying Italians love their food would be an understatement. They are extremely proud of their culinary tradition and miss no opportunity to showcase it, especially to those new to their culture. So when in Italy, expect the best, and most scrumptious, culinary delights coming your way. Just explore the Italian cuisine through a local's eyes and you'll enjoy the ride just as much as them.
Taking the obvious into focus first, pizza and pastas are what we generally associate with the Italian cuisine and both are definitely awesome here. But in Italy, they are so much better. Rather the standard take-away style pizzas you find in fast food joints, there are several significant regional variations that are a must try. For example, the pizza of Naples has a thick, soft crust while that of Rome is considerably thinner and crustier.
As for pastas, you will notice that Italian pasta is made with a myriad of sauces rather than the usual tomato and Alfredo. But Italian pasta is often served with much less sauce than what we are used to. This is, in part, because pasta in a restaurant is usually regarded as the first course of a three- or four-course meal, not a meal in itself. Your average Italian meal in a restaurant consists of antipasto (appetizers: marinated vegetables, mixed cold cuts, seafood, etc), primo (pasta or rice dish), secondo (meat or fish course) often with a side-dish known as contorno, and dolce (dessert). In short, expect a food bonanza.
Every region in Italy has its own specialties when it comes to cuisine and it would be impossible to sample all of them in a trip. So, we'll guide you through some of the renowned culinary specialties that shouldn't be missed at all.
Risotto – Arborio rice that has been sautéed and cooked in a shallow pan with stock, resulting in an extremely creamy and hearty dish. Various combinations of meat, poultry, seafood, vegetables, and cheeses are used as ingredients depending on the recipe and the locale. Many restaurants, families, towns, and regions will have a signature risotto or at least style of risotto, in addition or in place of a signature pasta dish.
Arancina – A deep-fried ball of rice with tomato sauce, eggs, and cheese. Though it began as a southern Italian specialty, it's now commonly available everywhere in Italy.
Polenta – Yellow corn meal cooked with stock. It is normally served either creamy or allowed to set up and then cut into shapes and then fried or roasted. It is commonly served in northern mountains restaurants and usually eaten with deer or boar meat.
Gelato is the Italian version of ice cream, and there are multiple variations. The non-fruit flavors are usually made with milk or with water and without dairy ingredients known as sorbetto. Readily available in many flavors, including coffee, chocolate, fruit, and tiramisu, it's served in a wafer cone or a tub.
Coming to drinks, Italians have a long tradition of matching wines with dishes and often every dish has an appropriate wine. But keep in mind; Italians are just as proud of their local wines like their food. Therefore, foreign wines are rarely served.
For those who are looking for a stronger kick, you can always try Limoncello and Grappa. Made from lemons and grapes respectively, these strong drinks are usually served after a meal as an aid to digestion.
Last but not the least; we shall talk about the mutual love of coffee that Italians share with most of us. Starting with Caffè, or Espresso, this is the basic kind of coffee, normally consumed at breakfast or after a meal. Caffè Ristretto has the same amount of coffee, but less water, thus making it stronger. On the other hand, Caffè Lungo is like ordinary coffee with the only difference being the additional water added to the coffee beans while brewing. Cappuccino absolutely needs no introduction, and neither does Caffè Latte. Besides these, we also have Latte macchiato and Caffè Freddo, but really, if we tell you everything, what's left for you to discover once there?
Viren Batra, CEO & Co Founder of nirvana excursion said, "Italian cuisine is an experience and a reason to visit Italy, all by itself, that's why, we at Nirvana, are really partial to this destination, and love (re) introducing travelers to the magic that's Italian food!"