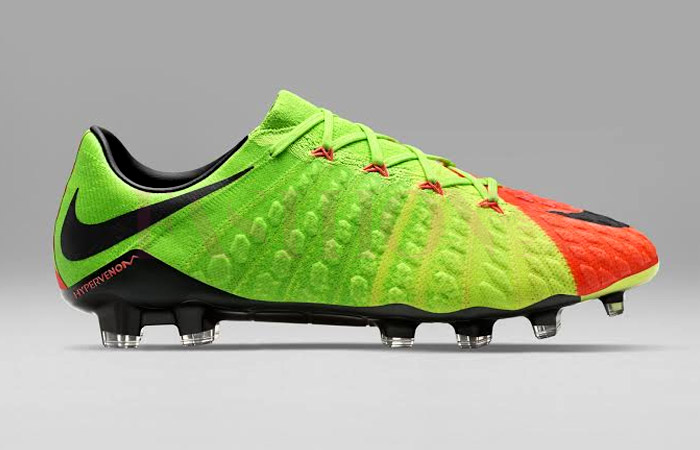 Nike's new Hypervenom 3 football boots were designed to do two things above all else: cut and strike. With these critical components of goal scoring in mind, Hypervenom underwent a radical makeover that includes a shift to Flyknit and the introduction of a new plate.
"This is a finisher's boot," explains Max Blau, VP of Nike Football Footwear. "Every component of this boot was built for goals."
The emphasis on scoring is most evident in the strike zone of the boot, which contains multi-layered Poron® foam pods integrated into a Flyknit upper. The pods are rate dependent, creating a dampening soft touch at low velocity contact, but activating rigidity when striking the ball with high velocity to create a firm launching pad for a true strike.
The pods in the strike zone are 2mm thick. The visible texture built into the rest of the Flyknit upper is hollow, flexible, and designed to enhance touch. The texture is also a nod to the scaly upper of the original Hypervenom boot that launched in 2013.
"We wanted a softened, flexible upper on Hypervenom 3 and knew Flyknit was the best way to achieve this," explains the boot's designer, Dylan Van Atta. "By designing down to the pixel, we're able to bond the texture only where necessary to keep it supple for comfort and touch."
To provide a customizable fit, Hypervenom 3 leverages three meters of Nike Flywire cables (the previous Hypervenom had one meter) within floating channels that can be adjusted to preference via the lateral lacing system. This enables the player to fine-tune the fit at each loop for more precise lock-in to support lateral cuts.
Further lateral stability comes from Hypervenom 3's new Dynamic Fit Collar, which features a redesigned agility cuff. "The prominent bones in your ankle are offset by up to 10mm and Hypervenom 3 mirrors this," explains Van Atta. "Lateral cutting can subject ankles to an extreme angle and this boot was designed with that in mind."
For players who prefer a low-cut boot, Hypervenom 3 is Nike Football's first boot to feature Flyknit in a low-cut version.
Hypervenom 3 is also the first Nike Football boot to feature the entirely new, Hyper-Reactive plate that combines a flexible Pebax® material in the forefoot with a sturdier nylon material for support. "The Hyper-Reactive plate has been in development for six years," states Van Atta. "We drew inspiration from Nike Free to create a more flexible forefoot that stays in contact with the ground while the heel is lifted for sharp cuts."
Building off of Nike Football's Traction Revolution, Hypervenom 3 also features a new, FEA data-informed traction pattern built for lateral cuts at sharp angles. "We leveraged hexagon studs for rotation and push-off so players could cut confidently," explains Van Atta, "while incorporating sidewall chevrons for lateral and medial traction."
Internal traction has also been taken into consideration with a Nike Grip sockliner that helps limit shifting of the foot within the boot.
At 196g, Hypervenom 3 is 17% lighter than its predecessor. "We crafted over 200 prototypes before achieving just the right balance for what players are trying to achieve," concludes Blau. "With a sharp focus on a 'cut and strike' style of play, we've built the ultimate finisher's boot."
Hypervenom 3 will be available on Nike.com January 30, 2017 in the Poison Green/Hyper Orange colorway.