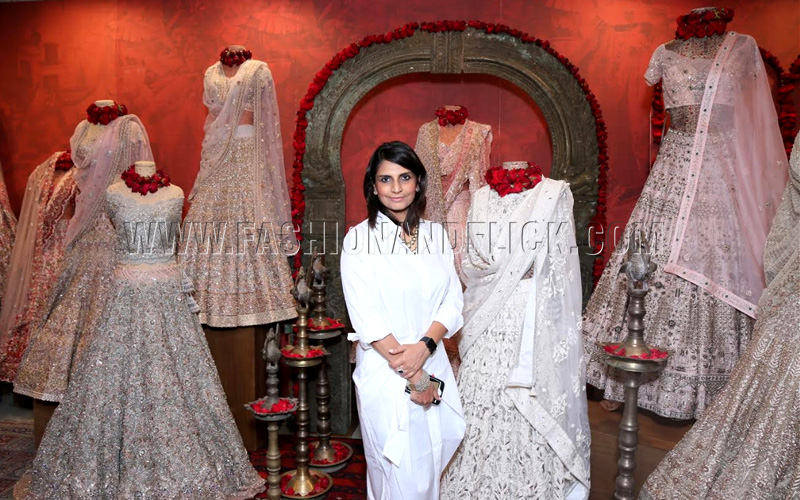 New Delhi, 6th August 2018: Vogue Wedding Show 2018, the three-day luxury wedding exhibition curated by Vogue India, concluded on 5th August at the Taj Palace, New Delhi. With actor Kangana Ranaut as the face of the flagship property for 2018, the sixth edition of the Vogue Wedding Show featured some of the most premium and well-known category leaders and services from the Indian wedding industry.
Held in partnership with the Taj and supported by Forevermark, Johnnie Walker The Journey, Beyond Designs, and T&T Motors, the specially curated luxury event offered guests the opportunity to make selections for their dream wedding. To get invited to this 'by invitation only' luxury exhibition, guests had to register on www.vogueweddingshow.in
Apart from being the only place where attendees enjoyed personal meetings with India's topmost wedding couture designers like Sabyasachi, Manish Malhotra, Tarun Tahiliani, Anita Dongre, Shantanu & Nikhil, Gaurav Gupta, Rahul Mishra, Jade by Monica & Karishma, Falguni Shane Peacock, and Shyamal & Bhumika, the Vogue Wedding Show also gave guests the exclusive opportunity to meet with wedding specialists,India's finest jewellers, trousseau gifting brands, décor experts, and wedding planners.
The attendees of the Vogue Wedding Show 2018 got the chance to attend exclusive masterclasses and interact with an enviable line-up of industry experts. These included a workshop on styling, where celebrity style mentor and Vogue India's Fashion Director, Anaita Shroff Adajania, shared contemporary style tips and advice for brides and grooms. In her masterclass, skin-care specialist Dr. Harshna Bijlani gave tips about techniques to get that glowing, flawless skin. Make-up specialist Namrata Soni broke down facts and myths and instructed attendees on how to wear make-up that's ideal for all kinds of bridal looks.
Celebrity hairstylist Rod Anker took guests through a step-by-step process underlining the need for personal and professional hair care, complete with an on-stage demonstration. Wellness professional Sumaya Dalmiasuggested to brides-to-be on how to look and feel their best through fitness and healthy living whilst ace wedding planner Vandana Mohan advised brides and grooms on how they can plan a unique wedding and stand out from the crowd. Additionally, there were various other masterclasses on bespoke services including few by a coterie of experts from the Taj and Diageo.
Speaking about the Vogue Wedding Show, Priya Tanna, Editor-in-Chief, Vogue India, said, "Weddings in India are a celebration of love, the coming together of families and the beauty of tradition. Currently in its sixth year, the Vogue Wedding Show 2018 has become an integral part of the wedding industry. At our three-day long wedding showcase, we brought together a select gathering of experts, brands and services to help brides and grooms create the wedding of their dreams. With an enviable line-up of experts in styling, hair, make-up, nutrition and wellness, as well as leading designers and jewellers, the Vogue Wedding Show is a must-do on any bride's and groom's checklist."
On being the face of the 6th edition of the property, Kangana Ranaut said, "It's totally incredible to be the face of the 6th edition of the Vogue Wedding Show. I had a great time shooting with all the gorgeous outfits and jewellery and I hope everybody with a wedding on their mind got a chance to attend this event."
For the Vogue Wedding Show 2018, Vogue India handpicked some of the best jewellers across India to showcase some spectacular wedding jewellery, with leading names like Amaya by Kantilal Chhotalal, Anmol, Birdhichand Ghanshyamdas Jaipur, Farah Khan Fine Jewellery, Forevermark, Hazoorilal by Sandeep Narang, Hazoorilal Legacy, House Of Surana By Pankaj Surana, Jaipur Jewels, Khanna Jewellers, Navrathan Jewellers, Nirakara Jewels, Occasions Fine Jewellery, Raj Mahtani Couture Jewels, Rare Heritage – A Mehta Emporium Initiative, Renu Oberoi Luxury Jewellery, Sunita Shekhawat – Jaipur, Studio Rêves, and The House of MBj, amongst many others.
Also present on-ground was Vogue Wedding Company, Vogue India's newest venture – a first-of-its-kind, personalised luxury wedding advisory service. Interested families met the Vogue Wedding Company advisors to schedule personal consultations.
This year's edition also saw the return of the popular 'Sari Pavilion' comprising brands like Latha Puttanna, Naina Jain, Palam Silks, Ratanshi Kheraj Sarees, and Vani Anand. For gifting and trousseau ideas,guests explored options like Ahujasons, Fabelle Exquisite Chocolates, Foodhall, Ravish Kapoor Innovative Invitations, Rohan Arora, Shazé, Shingora, and The Good Life Company (TGL Co.). Wedding experts like Creative Cuisines INC. (CCi), Katalyst Entertainment, and Wedniksha, along with destination choices like Kingdom Of Bahrain and Malta, were also found at the show.
Talking about the association with the Vogue Wedding Show 2018, Gaurav Pokhariyal, Senior Vice President, Taj – Delhi NCR & Rajasthan Hotels said, "Resplendent venues at picturesque locations, sumptuous culinary experiences and legendary service – since its establishment, Taj has always been synonymous with signature wedding celebrations at exotic destinations. To infuse creativity into weddings, Taj Hotels launched the Taj Wedding Studio that brings to life the art of planning a dream wedding. Our partnership with Vogue for the Vogue Wedding Show over these six years is a step towards furthering our commitment in staying current and yet timeless when it comes to orchestrating that perfect wedding."
Said Sachin Jain, President, Forevermark India, "The Vogue Wedding Show is an anchor event for to-be-brides and bridegrooms. It brings together the best in the business and we are pleased to participate this year. Our focus has always been on driving confidence in diamonds while reinforcing their preference and demand for diamond jewellery, in the market. Brides are looking for luxurious, unique pieces that they can call their own and which are perfectly suited for their life's biggest moments. Forevermark diamonds are amongst the world's most beautiful, rare and responsibly sourced diamonds. Over the years, we have received such an overwhelming response at the Vogue Wedding Show that we have decided to continue our association this year as well."
Shweta Jain, Vice President Luxury Commercial says, "Diageo & Johnnie Walker The Journey are elated to be partnering with Vogue Wedding Show, as the country's most luxurious celebrations platform; Our portfolio of brands are so well placed amongst the phenomenal line up of products & experiences designed & curated by country's leading creative minds. This is a great place to pick, choose & create a celebration that is uniquely yours"