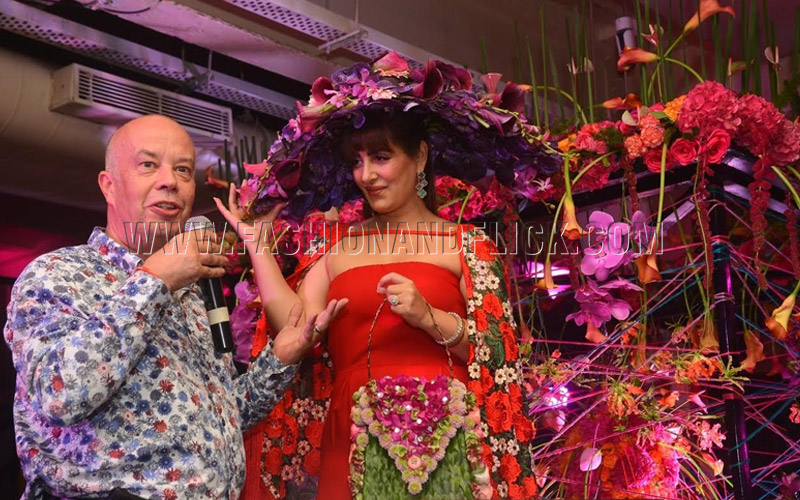 Mumbai, 11th October 2017: Wednesday evening saw the city's swish set step out for an intimate soirée to celebrate the launch of the Interflora – the world's largest flower delivery service, in India. Held at The Bombay Canteen, the event was co-hosted by Tarun Joshi – President and CEO, Interflora India and Rhys Hughes – President, Interflora UK. Guests including Lata Patel, Devita Saraf, Vikram Raizada, Sonal Singh, Sunita Choraria, Pratima Bhatia, Natasha Chib, Atiya Mulla and Pria Kataaria Puri, to name a few attended the launch. A pioneer in floral designing since 1923, the brand will be available in India via its online edition, Interflora.in.
Tarun Joshi, Neil Wittaker, Rhys Hughes, Michael Berringer and Sonal Singh
Devita Saraf, Vikram Raizada and Atiya Mulla
A team of expert floral designers, led by Neil Whittaker – Chelsea Flower Show winner and Head Florist, Interflora UK transformed the venue into a whimsical wonderland. From an umbrella bedecked with orchids floating over the Queen's Necklace promenade; a majestic pair of wings crafted entirely out of pale pink roses and a beautiful interpretation of the globe brought together by the power of flowers, each corner of The Bombay Canteen presented blooms like they have never been seen before.
Pratima Bhatia, Lata Patelat and Maheka Mirpuri
Globally known as 'The Flower Experts', Interflora handcrafts every arrangement and procures only the freshest flowers from certified international and local sources. Interflora.in has begun operations in Mumbai and will gradually expand to Delhi, Bangalore, Chennai, Hyderabad, Ahmedabad and Pune in the next one year.