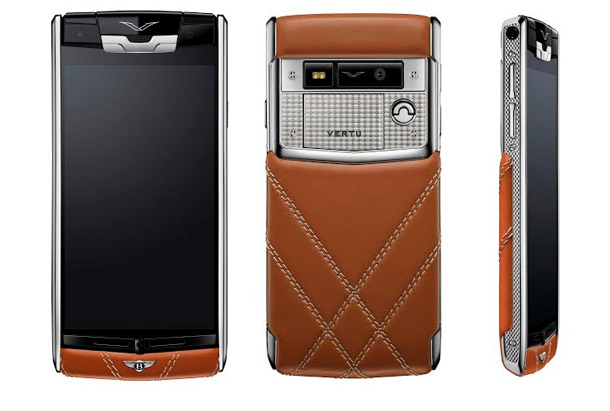 BENTLEY AND VERTU CONNECT WITH SPECIAL EDITION SMARTPHONE
Vertu, the English manufacturer of luxury mobile phones, today unveiled its first handset created in collaboration with Bentley. The 'Vertu for Bentley' handset, with its combination of audio performance and curated services, delivers a unique sensory experience. It is the first joint product release from the new five-year partnership of the two British luxury brands, which was announced in July.
THE DESIGN
The 'Vertu for Bentley' smartphone is swathed in quilted calf leather, in the classic Bentley shade of New market Tan, and stitched with a diamond pattern. The supple leather is encased in durable, yet lightweight, titanium, which features tactile diamond knurling. The traditional ceramic pillow, synonymous with established Vertu handsets such as the Signature and Signature Touch collections, has been subtly remodelled to feature a sleeker pillow trim, to reflect Bentley's elegant and sophisticated style. Each and every 'Vertu for Bentley' phone sporting a discrete, metal Bentley 'B' wings motif on the face of the handset.
PERFORMANCE
Mirroring the performance of the Vertu Signature Touch, the 'Vertu for Bentley' handset incorporates the full breadth of the company's expertise. The acoustics, tuned in collaboration with Bang & Olufsen, feature Dolby Digital Plus virtual surround-sound processing and stereo speakers. As for imaging, which is such an integral part of the smartphone experience, Vertu has continued to work with Hasselblad, the world's most renowned professional photography brand, to perfect the image-tuning of the camera. Vertu for Bentley' features wireless charging, NFC and Android™ 4.4 (KitKat) software.
SERVICES
The 'Vertu for Bentley' handset comes with the full spectrum of exclusive services which the luxury mobile phone manufacturer has become renowned for – comprising a dedicated 'Vertu Concierge' service, curated events and experiences via 'Vertu Life', and security services from 'Vertu Certainty' – alongside a unique 'Vertu for Bentley' app, which delivers exclusive Bentley content directly to the device.
Price:  Rs.12,50,000
Availability:
Bangalore
Zimson –  080 40982100
Rodeo Drive – 080 41248471
Hyderabad
Meena Jewellers – 040 23237170
Mumbai
Popley – 022 30602000
Swiss Paradise – 022 28980507
New Delhi
211, DLF Emporio – 011 41038001