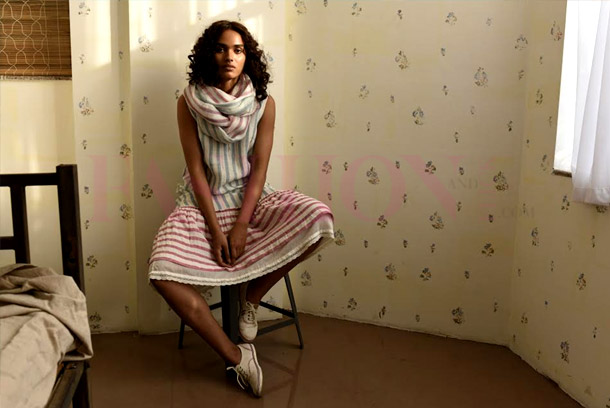 'Eka' by Designer Rina Singh a versatile designer from Delhi will be presenting an inspiring collection at Lakme Fashion Week on 1st February 2017 at 5:30 pm in Mumbai.
The spring summer 2017 line is a fusion of vintage watercolor wall-paper inspired block prints, laundered table cloth linen checks, floral chintzy prints with distressed finish, traditional lace inlays and delicate cross stitch embroideries.
Duster coat over layers in cotton,
silk floral underlining's with crocheted
hems, traditional lace paneled summer
dresses, faded gingham checks boxy
dresses paired with lacey sleep-in culottes,
crop linen pants with stripes midis, create
a feminine and quirky aesthetic.
The collection is sweet with humorous
undertones. Color – vintage whites,
soft pastels, vibrant palette.
of blue, yellow and poppy pink. Mixed with faded natural linen stripes and checks. Cross tones and tone on tone with vintage color accents are explored.
Please find the show details below:
Event: Lakme Fashion Week S|R 2017
Designer: 'eka' by Rina Singh
Date: Wednesday, 1st February 2017
Time: 5:30 pm
Venue: Jio Gardens, BKC, Bandra East,
Mumbai
Stage: Runway
'Eka':
Designer Rina Singh
Eka finds charm in the familiar – pastoral pleasures, a lilting breeze or the warmth of a lifelong friend. This spirit takes shape in soulful clothing that lives on through individual expression. We make our own textiles, favoring the mechanics and raw beauty of natural fibers.
They become our canvas upon which every layer deliberately embraces the irregular and gives craft an abstract interpretation.
Eka, in Sanskrit, means 'one' and echoes the singular effort of many individuals
Building a commercial brand with a unique aesthetic that bridges the east and west sensibilities has been our guiding design outline and as such, garments are versatile: fluid in shape, evolved in textiles and texture, and seen as essential to timeless wardrobes. Worn as separates or layered, each involves craftsmanship along with extensive development with traditional textile techniques. We hope you wear our garments often and well, that inspires us to evolve the product with continued passion.
.