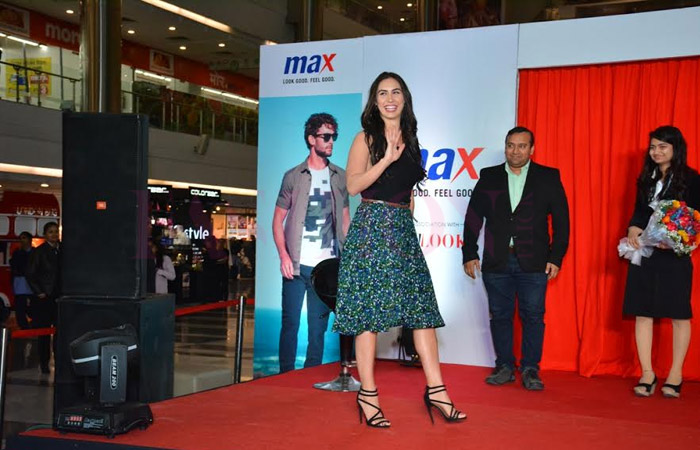 New Delhi, February 14, 2017:In a spectacular fashion show,India's leading fashion brand, Max fashion launched its Spring 2017 collection, at Moments Mall, Kirti Nagar, New Delhi. Dressed in imperial blue,barbados cherry red attires, the models accompanied by the children from Satyarth Rehab Center walked the ramp showcasing the diverse style from the collection.The show stopper Lauren Gottlieb, blazed the fashion ramp wearing garments from the new collection. The fashion show was followed by the introduction of new spring logo this season.
The collection celebrates the nautical spirit of spring. Sparkling shades of imperial blue, barbados cherry red are the dominant colors of the season. The season shows off an eclectic range of trends – ruffle details, asymmetrical hem lines, engineered appliques, natural hues, inflated silhouettes and oversized proportions to keep it classy and fuss- free. The assortment expresses the richly detailed sense of elegance and passion through a wide range of exclusive apparel, footwear and accessories for every occasion.
Speaking at the launch, Saurabh Garg, Regional Manager, North, Max Fashion, said, "This is a very exciting time of the year, where the city welcomes spring and we are pleased to unveil our Spring 2017 collection.I am thrilled to have gorgeous Lauren Gottlieb on this occasion. It was exciting to seethechildrenwearing colourful garments from our new collection.At Max Fashion, we always try to top our shopper's expectations and provide our customers with experiences that they will never forget."
Here are some of the trends to look forward this season.
Women's Wear
The range unfolds into a bold and striking collection inspired from the Marina Luxe. It conveys a testament to its sunny brand of optimistic fashion with silhouettes such as crisp cotton volume cold shoulder, oversized blazer, flared sleeves, cropped shirts making it a clean minimalistic staple for the season. It also incorporates designs based on tropical prints and ditsy floral with luxurious fabrics such as weightless georgette, rib knits and sheer fabrics with embroidery details. Blush tones, muted corals mixed with digital botanical prints, handcrafted patchwork patterns, form a luxe inspired chic line of clothing for women's wear this season.
Men's Wear
This classic resort collection gives you a perfect wardrobe solution for your upcoming summer getaway vacation. The foundation is laid with rich classic palette of white and navy. Pink and pool blue adds freshness to the look along with clear Sky. Indigo dyed fabrics woven in shades of blue and white with an accent of beige, Jacquard patterned collar rib, multicolored placement reverse collar, color blocked tees form the highlights of the season. The quirkiness is added with graphics and motifs inspired by holiday resorts. The yacht motif, minimal holiday poster inspired graphics, surfer icons, tropical motifs, distressed typos, beach life quotes, chevron patterns and palm tree motifs all up the quirky fun quotient of the collection. The spring collection is relaxed making it perfect for a day out in the sea.
Indian Wear
This collection draws inspiration from 70's vintage graphics, blues of Jodhpur palaces. A breezy layer, languid silhouettes, kistch bohemian spirited look gives the spring collection an edge over others. The mix of two extremes brings out this chic modern day look. Urban styling & minimalist approach is the key detail of the collection. Jackets, long tunics, kedia tops, shift dress, midi dresses and ombre swing tunics are the key highlights of the collection. The range has exquisite print textures on rich and natural feel fabrics. Global folk mix n match of patterns from across Europe & Asia adds drama to this collection with a modern take.
Kid's Wear
For the girls, Max has cool blue sea of the nautical resort collection with fun floral blends. The fabrics have a lot of textures like popcorn knits, crepe, georgettes and slub jerseys. Shift dresses, cold shoulder tops and dresses form the key highlight of the season with watermelon shades of pink with reds and navy. Florals blossoms in soft colors of pastel pink and corals mixed with denim blues, tangerine yellows, strawberry pinks and fun fruity appliques add the fun quotient to the collection. As for boys, nautical being the current rageof the season we can see little boats enhancing the look with all over print tees, chest prints and bottoms. Polos, character tees, hoodies alongwith dynamic graphic t shirts brings the collection alive. To add a little fun to the collection we have funny pirates with a crew full of underwater creatures in bright colors. So, all the pirate ship on an unforgettable cruise.