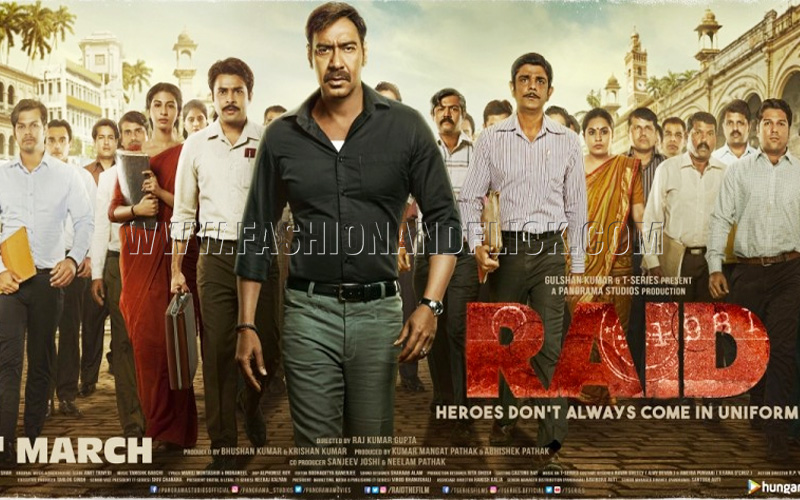 Director: Raj Kumar Gupta
Genre: Drama, Thriller
Cast & Crew: Ajay Devgn, Ileana D'Cruz, Saurabh Shukla, Saanand Verma
Music Director: Amit Trivedi,Tanishk Bagchi
After the critically acclaimed Aamir and No One Killed Jessica, director Rajkumar Guptaís last venture was Vidya Balanís Ghanchakkar. Three years later, the filmmaker is back with what he is best at – telling real life stories
The movie Raid based on Lucknow,Uttarpradesh is about the longest-running Income Tax raid in Indiaís history. Ajay plays Income Tax officer Amay Patnaik a top form ñ the silent, brooding, serious and moralistic officer who loves his family but considers duty and country above all of that ñ based on the life of Sharda Prasad Pandey, who was the Income Tax commissioner of Lucknow in 1981 ñ while Ileana essays the role of his dutiful wife.
The film starts where Patnaik, whoís been transferred 49 times in the past for his unbending honesty, launches an early morning raid on Taujiís house, where 420 crore rupees are allegedly stashed.This starts a battle between the good officers and Tauji which have been perfectly played by Saurabh Shukla as loud and devilish character.
Raj Kumar Gupta has made an entertaining and impressive film with Raid. Ritesh Shah has written an intelligent script and screenplay one that with heavy dialogue makes the movie interesting to watch.
There are some impressive scenes, one is when Ajay carries his own bottle of cheap rum to the club because drinking someone elseís expensive booze is against his principles. Itís a mild surprise when his wife mentions that heís an atheist, but then the next line is: ìYou only believe in Bharat mata.î
One sequence in particular seemed to underline the filmís attempts to over-work even its good ideas. A gun goes off by mistake and gold pieces start raining down from a hole in the ceiling.Devgn comes forward, takes his time, shoots at the ceiling ñ once, twice. The same outcome, but with minimal payoff. Here Shukla does everything he can to breathe life into the entitled bully heís playing.
After the movie Sonu Ke Titu Ki Sweety, At 128 minutes and 3 seconds, Raid is just the right length of movie to watch this weekend.
Star: 3.5/5
Movie review by : Anupama