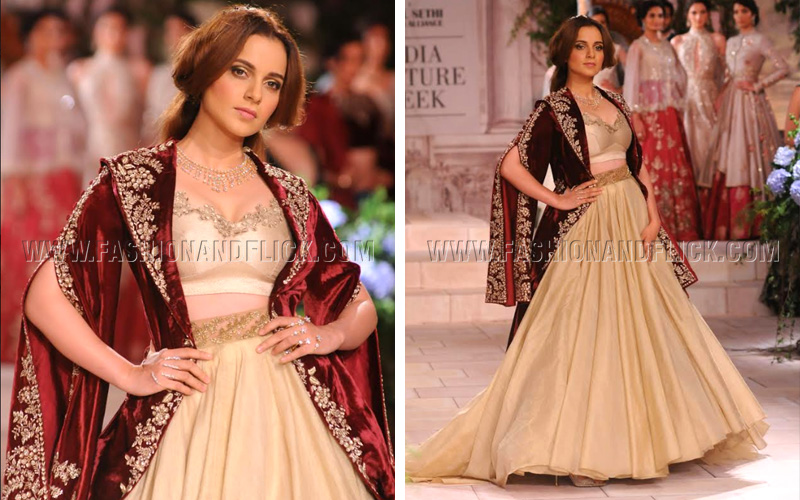 NEW DELHI, 25th July 2018, Wednesday
: In its 11th edition, India Couture Week 2018 witnessed a mesmerizing show with the charming antique appeal, at Taj Palace. Ace designer

Anju

Modi

showcased '

A Maiden's Prayer

', a historic like couture collection inspired by the vintage era that holds eminence pride with an attitude.Flattering the couture ensembles,

RK

Jewellers

South

Extension

–

II

embarked its journey at the India Couture Week by dazzling the stage with full opulence. Bollywood Diva

Kangana

Ranaut

did full justice to the exclusive

Anju

Modi

attire and dazzled in exclusive jewels created by

RK

Jewellers

South

Extension

–

II

in perfect symphony with '

A Maiden's Prayer

'.
"

Sometimes, I secretly wish I lived in the Victorian era.

", opines Designer

Anju

Modi

in awe of the amiable era. This is the very thought behind her couture collection this season. Looking back at the days, the Victorian fashion was a symphony of exaggerated silhouettes with copious amounts of fabric, grandiose sleeves, fancy collars and dramatic hairdos, that was magnificently orchestrated for the graceful women of those days. Renowned for its ostentatious fashion, aesthetically pleasing art & architecture, classic literature and music, is where we go for our inspiration this season.Taking a melody from that symphony and transforming it into a prayer for the present day women is the essence of the collection – '

A Maiden's Prayer

'.
Ecstatic at the occasion, Designer

Anju

Modi

said, "A Maiden's Prayer is a bountiful showcase of an endearing epoch

.

I feel

Kangana

added to the old world charm of the era as she too has that enigmatic aura that catches the eye and holds the heart. The ostentatious vintage charisma is here to captivate one and all with every details of this range."
On the occasion, Mr. Rohan Sharma, Managing Director,

RK

Jewellers

South

Extension

–

II

commented, "We are extremely elated to have joined hands with India Couture Week this year. We feel it is an apt platform for us to showcase our design strength and craftsmanship. With immense joy we presented and showcased the exclusive Vintage jewellery collection specially designed to complement the couture collection of celebrated designer

Anju

Modi

today on the ramp."
The special jewellery collection presented by

RK

Jewellers

South

Extension

–

II

for designer

Anju

Modi

namely- Vintage collection, was designed in line with the mood of her garments.
This collection drew inspiration from the colonial era of the 18th century. Achieving the right craftsmanship was of utmost importance, as in that era all the jewellery was completely handmade. Hence, the craftsmen were flown in from West Bengal to achieve the required level of precision. Featuring colourless fancy shape diamonds and precious gemstones including emeralds and rubies, the brand exhibited its exclusive repertoire in this much-awaited extravaganza.