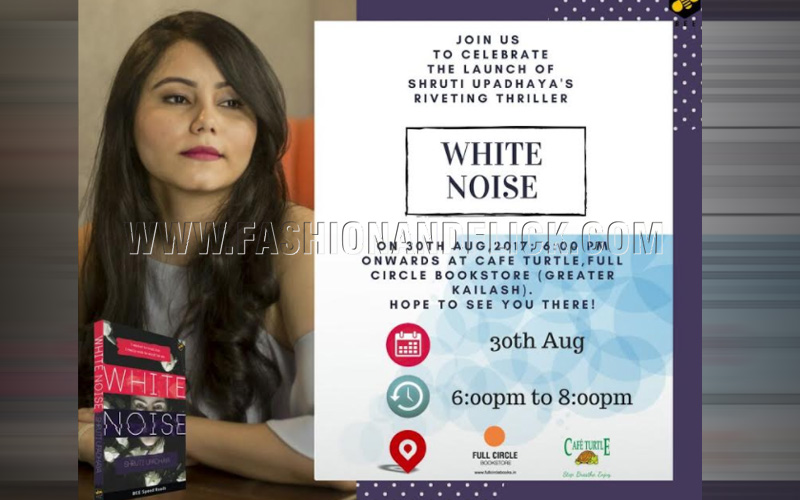 Name of the Book : WHITE NOISE
A psychological thriller meets dark romance with elements from crime fiction
Date: Wed, August 30th 2017
Venue: Café Turtle, Full Circle Bookstore
N Block Market, Greater Kailash Part I, New Delhi
Time: 6:00pm
**The launch will see Shruti in conversation with Delhi-based author Devpriya Roy, who is known for her novel, The Heat And Dust, that chronicles the story of travelling through India on local buses, which debuted no 1 on the HT- AC Neilson list.
About the Book : White Noise is a psychological thriller/dark romance. What starts off as a seemingly playful liaison eventually becomes dark and rather mysterious. The story exemplifies the sweet poison that all of us subconsciously desire or somehow, somewhere encounter. The male protagonist is irresistible at best and venomous when he is real- the kind one would want to know more about and eventually fall in love with without knowing or realizing what lies in the offing once you've succumbed.
A non-conformist and brutally ambitious, he does not care about the ethical and moral repercussions of his actions. The female protagonist is a dreamer, readily giving into the man and leaving herself at his peril even as it destroys her mental sanity little by little. The first part is narrated to us from the point of view of the girl.
After which comes the voice of an omniscient narrator who gives us a neutral insight into the plot. And then the plot takes a sudden turn with a secret being revealed- one that lies at the very heart of this liaison; after which a large part of the story is narrated to us in the voice of the male protagonist. It is a rollercoaster for the readers as the chapters take swerves from one revelation to another. One unique aspect of the book is that the male and female protagonists have no names and there is no physical setting because the author believes that these events could happen to anyone, anywhere.