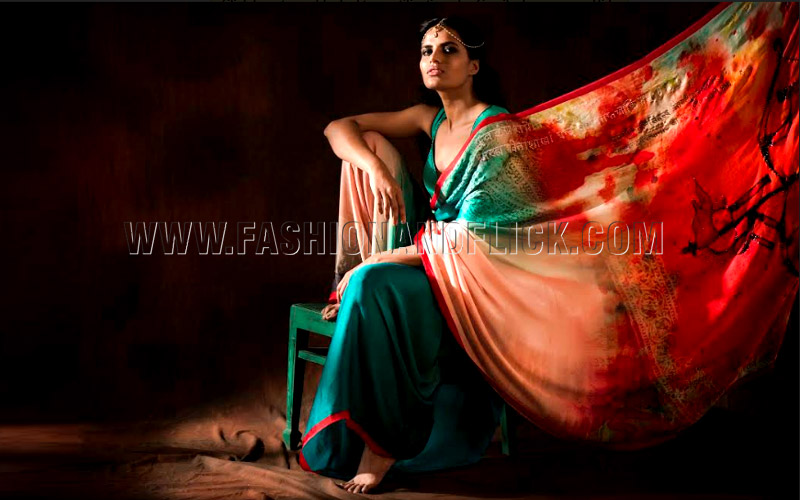 September 23, 2017: Satya Paul unveils its limited edition Festive Series 'Ramayana by Satya Paul', inspired from 'Ramayana' the saga of love, friendship and bravery, an exemplar of the victory of light over dark. The collection offers free flowing fabrics, individualistic – contemporary prints and a vibrant color palette, which always has been the unique feature of any Satya Paul design.
PRINTS
The collection includes three different looks, The Rama Saree, The Sita Saree The Ramayana Saree, which offers a vivid mix of prints, ranging from neo-traditional, tessellating geometrics to contemporary graphic and abstract.
The Ram Saree
Lord Rama is a symbol of righteousness and defined moral, power and bravery, humbleness and honesty. Almighty, the warrior prince with a soul of fire and his strong character is visible in the play of colors in the saree.
'The Sita Saree'
Sita is depicted by the Lotus flower which symbolizes her delicate and elegant beauty that blooms through the adverse of situations. This saree is our depiction of Sita, who is elegant, delicate and a symbol of beauty. A oman who faces challenges and hardships on her journey. And, a woman who's strength is in kindness, generosity and forgiveness, yet she has desires and demands, depicting the human she is who wants her wishes to be fulfilled.
'The Ramayana Saree'
Ramayana is a saga of love, friendship and bravery, an exemplar of the victory of light over dark. The tale of love, friendship, righteousness, resilience and fight for justice, right over wrong, and the voyage of a being going through the tests of life towards achievement and celebration is the inspiration of this saree.
EMBROIDERY
The collection offers an exclusive line of sarees highlighted with crystals, which draws inspiration from our Hindu mythology bringing out the traditional charm in designs that are classics and elegant in the brand's signature style.
SILHOUETTES
Fluid, simplistic and comfortable silhouettes are the highlight of this Festive Series.
COLOURS
The deep hues and rich palette resonates with the advent of Autumn and also reflect the vibrant mood of the collection. Every product offers stand-out contrasts and a brilliant mix of color, with lively hues capturing the warmth, bringing color to the season. A diverse color palette lends every product a distinct edge and a new look.
FABRICS
Soft, diaphanous fabrics like fine georgettes, crepes and a variety of satin and cotton blends provide superior comfort and are perfect for the season.