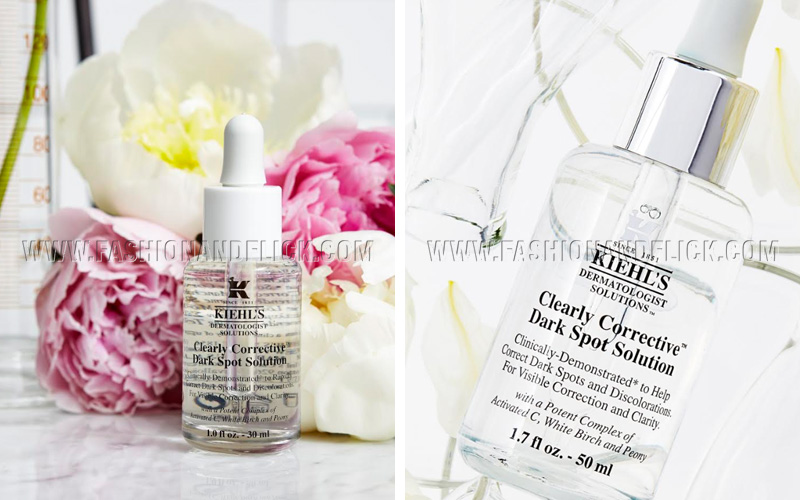 With customer service at the core of their training, Kiehl's KCRs prioritize providing solutions for each individual customer's skincare, body care and hair care needs; to ensure that the patron feels they're in good hands. It's a fact that Kiehl's first opened as a classic old world apothecary where personalized skincare was "prescribed" based on expert one-on-one consultations, and this heritage lives on today through the KCR's expertise. The Let Us Change Your Skin (LUCYS) Campaign highlights 'The Kiehl's Commitments':
Efficacious Skin and Hair Care at a great value
Clinically proven formulas that are safe for sensitive skin
Expert personal consultations
Complimentary samples with every visit
100% Satisfaction and money-back guarantee
During the consultation session, the KCR assess the customer's skin condition to find out more about their lifestyle and expectations before 'prescribing' the best-suited routine for the customer. Furthermore, in line with the Kiehl's "Try Before You Buy" philosophy, the customer also received customized samples, which they can take back home to try, no strings attached.
Through this campaign, Kiehl's and the KCRs promise and assure to change one's skin in 28 Days!
#KiehlsIndia #LetUsChangeYourSkin
1. Kiehl's
Clearly Corrective™ Dark Spot Solution
A serum that diminishes the appearance of dark spots
Product Details: This highly-efficacious facial serum brightens and clarifies skin for increased radiance. Over time, it diminishes the number and intensity of even deep-set dark spots and skin discolorations.
Minimizes the appearance of a broad spectrum of dark spots including post-acne scars* for a more even skin tone
Daily, continuous use results in visibly brighter, more radiant skin
Formulated with a potent, latest-generation clarifying complex of Activated C, White Birch and Peony Extracts
Dermatologist-tested for safety and gentleness​, ​For all skin types, including sensitive skin
​Price – Rs. 4300 /-
2. Kiehl's Precision Lifting & Pore-Tightening Concentrate
A clinically tested serum that tightens and reduces pores.

Product Details:
Visibly Lifts Facial Skin
Tightens and Reduces Pores, Lines and Wrinkles
Re-Defines Facial Contours
​Price – Rs. 5600 /-
3. Kiehl's Nightly Refining Micro-Peel Concentrate
A peel that helps accelerate surface skin cell turnover.
Product Details: Exfoliate skin overnight with a gentle facial peel for smoother, more radiant skin. This formula is infused with the power of Quinoa Husk Extract and Phytic Acid to help refine and smooth uneven skin texture. Our potent, yet gentle night serum effectively exfoliates while you sleep for radiant, glowing skin.
Helps exfoliate skin overnight to reveal visibly refreshed and radiant skin
Demonstrated to help accelerate skin cell turnover in a clinical study*
Visibly evens skin tone and refines the feel of rough texture over time**
Formulated with sustainably-sourced Quinoa Husk Extract, Cactus Extract and Phytic Acid
Dermatologist-tested for safety
Safe for nightly use on all skin types, including sensitive skin
​Price – Rs. 4350 /-
4.​ Kiehl's ​
Super Fluid Daily UV Defense
A lightweight sunscreen that helps protect against the first signs of aging

​Product Details: ​
Help protect skin from the early signs of aging with our lightweight facial sunscreen with broad spectrum SPF 50+. With advanced UVA/UVB technology and pollution protection, our formula helps defend against UV rays, pollution and free radicals. Our daily, non-comedogenic sunscreen absorbs quickly and leaves a matte finish.
Helps protect skin from environmental aggressors including UVA/UVB rays and pollution which can cause the first signs of aging
Lightweight formula absorbs quickly and leaves skin with a matte finish
Formulated with advanced UVA/UVB technology and pollution protection
Dermatologist-tested for safety
Non-comedogenic
Suitable for all skin types, including sensitive skin
​Price – Rs. 2600 /-
​5. Kiehl's ​
Daily Reviving Concentrate
Lightweight facial oil that keeps skin looking radiant all day
​Product Details: ​
Strengthens skin's defenses against daily aggressors to keep skin youthful and radiant-looking all day
Provides antioxidant protection with a powerful blend of naturally-derived oils, including Ginger Root, Sunflower and Tamanu, to help skin feel fresh and look energized morning to night
Paraben free, 100% natural origin, Mineral oil free, Non-comedogenic, Non-acnegenic
​Price – Rs. 2100 /-
​
6. Kiehl's ​
Midnight Recovery Concentrate
A nighttime facial oil that visibly restores the appearance of skin.
​Product Details:
This top-rated face serum is formulated with ingredients like Lavender Essential Oil and Evening Primrose Oil to replenish skin by morning.
Restores overnight to help skin repair itself from daily aggressors
Improves firmness and elasticity for replenished, radiant skin
Formulated with a blend of essential oils and distilled botanicals including Lavender Essential Oil, Evening Primrose Oil and Squalane
A customer favorite​
Price – Rs. 2100 /-​