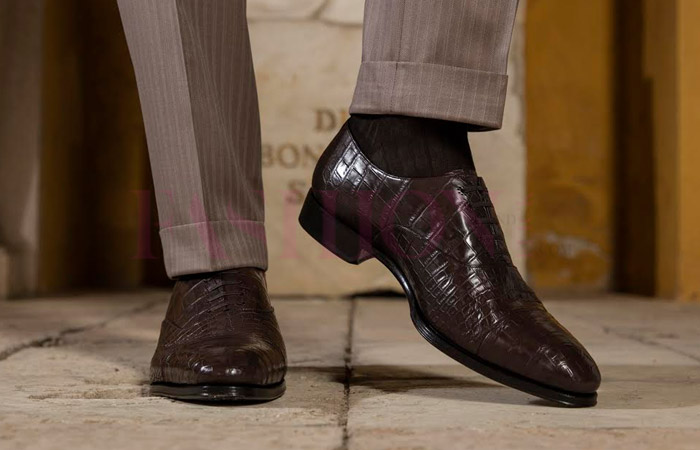 With a renowned commitment to producing 100% Made in Italy, STEFANO RICCI has distinguished itself by the innovation and ingenuity of its designs and materials for all garments and accessories. The Florentine menswear Maison has built a strong foundation upon its numerous years of experience in the field of leather goods production, which naturally moved from wallets and bags, belts and luggage to include the field of footwear.
Through a relentless research for the best raw materials, and Italian craftsman bestowed with generations of know-how, the signature designs of founder Stefano Ricci have been carried out with ease through a variety of footwear styles. Leather is not only found on the exterior of the SR shoes, but, in many models, it is also used as a superior interior lining, or as the sole of each shoe. STEFANO RICCI shoes with leather soles always match or compliment the colour and type of leather used in the shoe exterior. The variety of exclusive leathers used is unparalleled, from soft calfskin leather to elegant ostrich. The superior quality of STEFANO RICCI leather is guaranteed from the very start by a selection amongst the best and most appropriate hides for the exclusive workmanship.
The leather used in SR shoes is often embellished with recognisable treatments, such as the Shiny Antique or Pebble Grain leather finishes or the leather embossed Octagon Monogram and Africa motifs, inspired by the designer's sojourns in the great continent. Some of the most exotic leathers, now trademarks of STEFANO RICCI, are constantly evolving with over five exclusive finishes available for each hide, all carried out by the leather goods atelier in the hills of Fiesole. One of the most singular finishes used for footwear details is the nubuck crocodile treatment, which defines the natural outline of the scales whilst also giving an extraordinary soft touch to the leather.
Particularly notable are the Olympia sneakers with their fluid construction, perfect for sport or leisure, executed in SR matted crocodile and high tech silk. Other models, such as SR boat shoes, are made using pure, high quality rubber that is particularly lightweight. Each rubber sole is researched and designed to bring a dynamic and unique movement and aesthetic to every style, and rendered recognisable by the sole's iconic SR Octagon Monogram and Africa motifs.
No matter the style, SR shoes are unique for their refined designs, comfort, and sophisticated models which may accompany the STEFANO RICCI gentleman in every occasion.