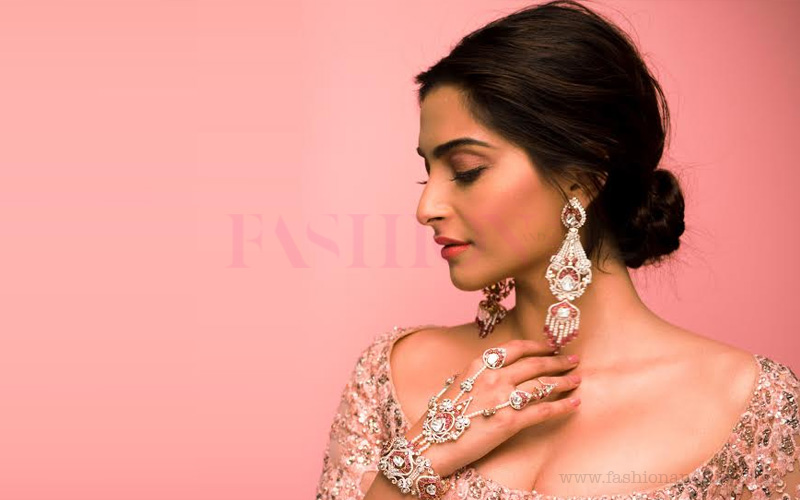 May 22, 2017: Kalyan Jewellers' global brand ambassador Sonam Kapoor showcased 18th century and Victorian era inspired dark romance jewellery with Indian undertones at Cannes 2017. Designed by sister Rhea Kapoor and the team at Kalyan Jewellers, this stone-studded, rose-gold collection can only be termed as wearable art. 12 artisans worked for 35 days to create these hauntingly beautiful and timeless pieces. Her glittering, customized accessories included dramatic haat phools and lightweight shoulder duster earrings – each a spectacular statement piece. Sonam was wearing a pale pink gown by designer Elie Saab.
To match the shade of pink used in the gown, Rhea Kapoor worked closely with Kalyan Jewellers and chose tourmaline – an exquisite gemstone. This was paired with brilliantly sparkling polished diamonds, strings of fresh water pearls and muted Polkidiamonds all set in a rose gold base with just the right hint of white gold. At 5.23 inches, the 18 carat shoulder duster earrings surprisingly weigh just 60.43 grams. The Haat Phools have a more elaborate design with multiple pearl strands connecting daintily from the finger to the bracelet, and the pair weighs 171.09 grams.
Commenting on the design Rhea Kapoor said, "For Sonam's Cannes appearance this year, I wanted jewellery that would go with the intricate embroidery and the high-shine embellishment of Elie Saab's design, but at the same time, I wanted something that was inspired by Dark Romance. It was a memorable experience working with Kalyan Jewellers to create this look. We combined the traditional Indian technique of studded jewellery making with a design linage that is essentially very European. Our aim was to create pieces of wearable art that blends the best of 18th century dark romance designs with Indian idioms."
Rajesh Kalyanaraman, Executive Director, Kalyan Jewellers added, "It was a challenging proposition for us, when Rhea suggested blending Victorian dark romance inspired design ideas with Indian kaarigari. But today, we are extremely proud that we could render the designs with precision. The jewellery complemented Sonam Kapoor perfectly, and the most important aspect of this design is that they are lightweight and can be easily paired with an Indian or a more global ensemble."
Sonam Kapoor lit up the red carpet in a haute couture gown paired with custom designed and handmade jewellery by Kalyan Jewellers at the 'The Meyerowtiz Stories' screening during the 70th annual Cannes Film Festival.