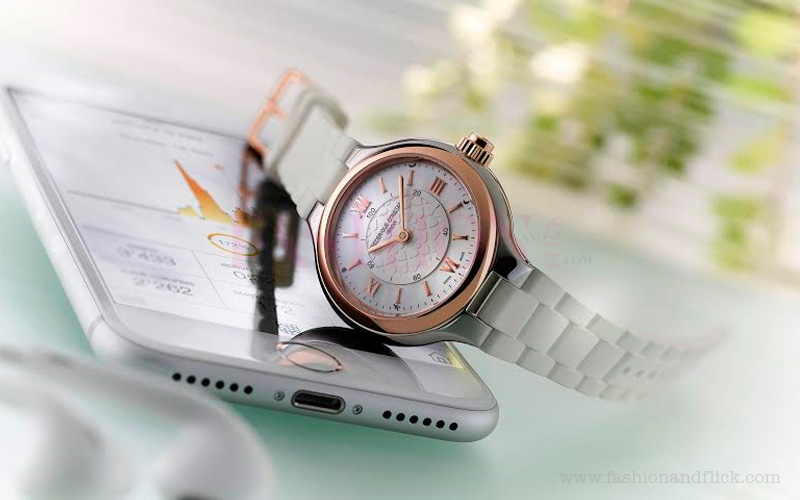 Frederique Constant sets another milestone by being the first in the Swiss watch industry to introduce Horological Smartwatch for ladies, an analog watch offering connected functionalities.
The Ladies' versions of the Horological Smartwatch combine the two worlds of high-tech innovation with the traditional Swiss watch craftsmanship, offering a refined, elegant and feminine design watch with connected functionalities.
Elegant designs
Frederique Constant's three new Ladies models showcase intricate detailed dials featuring heart's guilloché decoration, mother of pearl on the outer dial and applied Roman numeral indexes. The 34mm case comes in two variations; one in an all-steel version, and a second one in steel with a rose gold-plated bezel.
New soft and comfortable straps
A classic look to accompany the modern woman of today in all her daily activities from the workingwoman, to mothers and sport enthusiasts alike, motivating her to move more, sleep better, and ultimately improve her overall lifestyle. What better way than to include a new rubber strap in order to turn this classical watch into the ideal active companion. The new rubber straps, soft to touch and water-resistant, come in two different colors: white and black.
Connected functionalities
The much appreciated "activity & sleep tracking" sub-dial is featured at the center of the watch and the 2, 4, 8, and 10 o'clock positions reveal its characteristics: call notifications, sleep monitoring, activity tracking, and text notifications, respectively. MMT SwissConnect designed the Ladies MMT-281 quartz module at a smaller scale to fit the more feminine and elegant 34mm case. The module is powered by 2+ years battery life.
Features of the Horological Smartwatch
NEW! Notifications: This feature sends you a notification whenever you receive an email message as well as calls.
Activity Tracking: Keep track of daily steps, calories burned, and total distance.
Sleep Monitoring: Wear your watch at night or put it under your pillow to record your sleep. Sleep tracking function provides details on how much time you spent in deep sleep, light sleep, or awake.
Always On-Time & Date: You never have to set a time and date – traveling across time zones, the Horological Smartwatch picks up the time from your smartphone and displays new time automatically.
Sleep Cycle Alarm: Set a smart sleep alarm that will help you to wake up at the best appropriate time in your sleep cycle so that you wake up refreshed.
Get-Active Alerts: Set an alert to remind you to move if you've been idle for a set amount of time; you can customize your Get Active Alerts directly through the MMT-365 app.
Dynamic Coaching: Receive suggestions, tips, and information catered specifically to you based on your activity and sleep goals.
Cloud back-up and restore: Recover all of your data, even if you lose your watch or phone. The Horological Smartwatch independently stores your activity and sleep for 30 days without having to synchronize it to your smartphone. A great way to collect and keep your data on-the-go!
Worldtimer 24 time zones: Frequent traveler? Keep track of your hometown's time by simply entering your city into the app. You'll always be able to know instantly when is the ideal time to call your loved ones or business partners back home.
The new MMT-365 app which connects to the smartwatch via Bluetooth is available on both iOS and Android systems, with simple and easy-to-understand graphics to highlight how much one has moved and slept during the day, week or month.