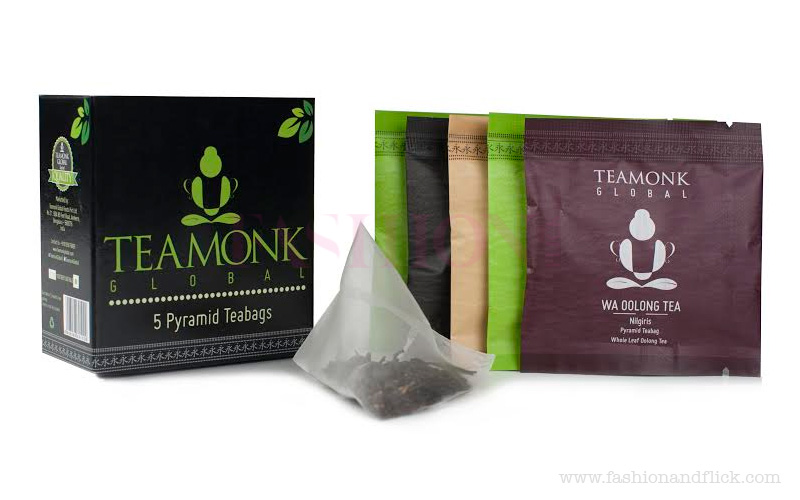 Delhi/ Bangalore/ Mumbai, INDIA: With the long, hot days of summer right around the corner, there is no better way to get through them than with a refreshing drink in hand. Delicious and filled with plenty of nutritional benefits, a green tea is the perfect hydrating drink for this summer. To kick off the start of summer, TeamonkGlobal, an online tea shop that delivers, every single day, the finest of Indian teas handpicked fresh from the best tea plantations introduces new variants of green tea that includes, Sozen Orange Tea, Yoshin Lemon Green Tea and Zoho Lemongrass Green Tea.
Commenting on the launch, Ashok Mittal, Co-founder, Teamonk Global, said, "Given the growing popularity of green tea in the India, this is the perfect summer to bring the distinct flavor and benefits of green tea to our consumers who want to quickly revitalize their day. TeamonkGlobal offers delicious, simple blends of tea and natural fruit flavors. Our new Green Tea Citrus products with even more antioxidant properties are great additions to our line of refreshing teas and are the perfect complement to our customers' daily routines."
Sozen Orange Tea
A tea, which is nothing but the pureness of orange in the most natural green tea, is what Sozen Orange Green Tea is all about. In Zen terms, "Sozen" means "Genuine" and this tea is a true testament of the tea leaves which are picked at the peak of flavour and then blended with the natural dehydrated Orange peel. Orange when combined with green tea makes it a strong antioxidant with a great citrus taste & freshness.
Price: INR 400 per 100grams and INR 450 per 30 pyramid teabags
Yoshin Lemon Green Tea
When connecting with his inner self, one is certain of nothing but the truth of one's own emotions – truth of surroundings, nature and everything else that he seeks. Visioned from the Zen word "Yoshin", this tea is nothing but the "Ocean of truth" foisted to your inner self. Discerning just a sip of this tea will not only rejuvenate your senses in the truest manner, but will bring the natural benefits of lemon alongside green tea. Added with natural lemon peel to achieve a perfect balance of green tea and citrus, this tea is perfect at any time of day. The clean vegetal notes of the green tea blend seamlessly with the citrus crispness.
Price: INR 400 per 100grams and INR 450 per 30 pyramid teabags
Zoho Lemongrass Green Tea
How do you savour the perfect taste of tea for your palate – by recognizing and relishing its flavor in each and every sip, as if you just found a "hidden treasure"? In Zen speak, Zoho is synonymous to "treasure", and what could be a better alley to prove this than our Zoho Lemongrass Green Tea. Fresh lemongrass has a delicate, floral rose-like fragrance mixed with a fresh and grassy aroma, and has high anti-oxidant properties. With a mildly tannic flavour, and subtle hints of lemon, this tea is a perfect complement to any occasion.
Price: INR 400 per 100grams and INR 450 per 30 pyramid teabags
These teas taste best in their natural form, without any milk or sugar. A little milk and sugar or honey and lime can be added to complement your taste preferences.
In addition, TeamonkGlobal is introducing pack of 5 teabags and a pack of 10 teabags collection, which is curated from choicest teabags collection from the catalogue. An assortment of these pack of 5 and pack of 10 of our carefully chosen teas, as pyramid teabags, is a collection to love! You get each tea in our sachets, so that you can feel the medley of the selected teas in a single box.
Unique Pyramid Tea Bags: The new generation "Pyramid Tea Bags" change all the old rules of tea brewing. It brings a new innovation to tea drinking with an added advantage of convenience. In order to brew properly, tea leaves have to move around. Only tiny tea dust particles could move around in the tiny space of a traditional tea bag which is the primary reason why tea dust was and is used in traditional tea bags. This meant you got a tea with great colour, a strong brew but poor quality.
With the new addition of pyramid tea bags to Teamonk's portfolio provide an additional advantage to brew the teas with convenience and without compromising on the quality of tea brewed.
Enjoy the same quality and flavour of whole leaf teas brewed in the pyramid tea bags with complete convenience and unwind in the citadel of purity and rich aroma.
Availability: Sozen Orange Tea, Yoshin Lemon Green Tea and Zoho Lemongrass Green Tea
All the above mentioned teas are available on Amazon.in, Flipkart, Snapdeal and Bigbasket besides few selected stores of Godrej Nature's Basket in Bangalore.