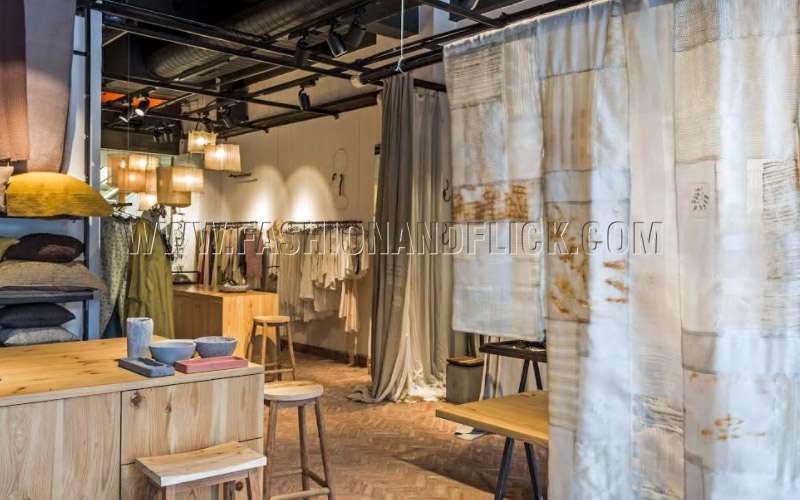 New Delhi, October, 2017: Shades of India has chosen a prime location in Gurgaon for its first stand-alone store outside Delhi. On Golf Course Road, close to the Magnolias and One Horizon, the ground floor space has an eye-catching visibility. In a city still lacking in lifestyle and fashion stores, it will be an iconic destination.
'We already have a flagship store in the Meharchand Market in Delhi and some 10 shop in shops in major cities', says David Housego, Chairman of the Company. 'But we have been looking for a high visibility space in Gurgaon which has grown a breakneck speed but lacks innovative shops in apparel and lifestyle. The Emaar owned Palm Springs suits us perfectly.' With a herring-bone pattern brick floor, bare walls and exposed ducts and piping, the interior design is minimalist and contemporary. 'I wanted a space in which a customer who shops in London or New York feels at home. I dislike clutter. A minimalist space allows you to bring out the beauty of colour, texture and detailing. That is what our collections – apparel, home and accessories – are about.'
Shades of India has won an international reputation selling to major stores across the world including Harrods and the Conran shop in London. In New York, it will have its own shop-in-shop at ABC on Broadway from mid – September for Neem, its new US lifestyle brand.
Shades of India brings out four collections a year of apparel – accessorised with scarves, bags and jewellery to mark the changing seasons. Each is distinguished by the fine quality of the fabric and the detailing of the handworked embroidery. The launch of the shop goes hand-in- hand with the launch of the Festive collection.
As a lifestyle brand, it has set trends in textiles for the home – coordinating fabrics, textures colours in curtains, bedding and decorative cushions to bring uniqueness to a room. It has an interiors division which works with architects, interior designers on clients on the soft furnishings for an apartment or a house.
Apart from its own store in the Meharchand market – described by the New York Times as a must see in Delhi – it has shop in shops in some of the best stores in India. These include Amethyst in Chennai, Anonym in Hyderabad, Options in Ahmedabad and Raintree in Bangalore. It launched Good Earth's first collection of clothes and is represented in most Good Earth stores.
Shades of India Standalone stores are as listed below
G-17, Emaar Palm Spring Plaza, Golf Course Road, DLF Phase 5, Sector 54, Gurugram Phone No – 9810904857
127, Meharchand Market, Lodi Colony, New Delhi, Delhi 110003 Phone No – 011 49053333