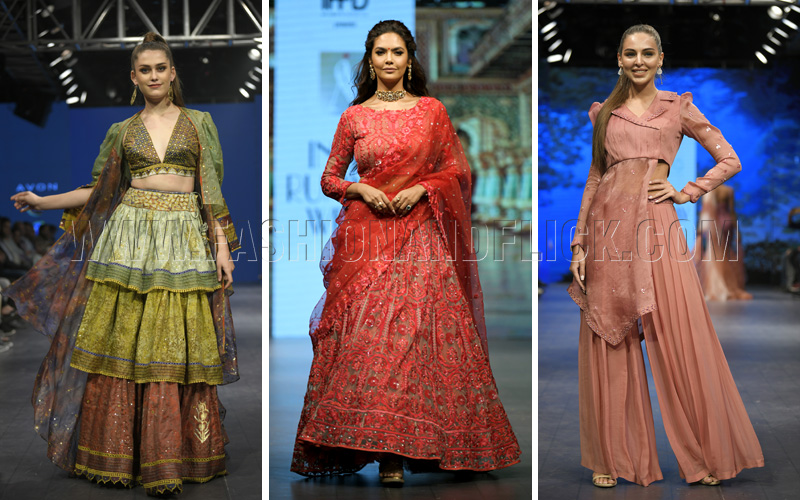 Day 2 kicked off with the first-ever Ethical Design Challenge where one winner was selected out of 8 young designers from all over India who won the financial support for next season as well as bagged a sponsored show by IFFD. Sahiba Aggarwal won the Ethical Design Challenge 2019.
Second show of the day was by accessory designer Akassh K Aggarwal where he showcased a strong accessory line themed "Silent Stories " and a collection of a designer was about expression of LGBTQIA+ Community Existence and the struggle of acceptance.
The evening started with Aayana by Siimi's festive wear, finely crafted pieces with lucknowi work, thread work and Indian craftsmanship were seen. Collection which was pre-bridal, bridal wear collection was presented. Showstopper Esha Guptaclosed the show for designer Siimi
The 7 pm show was all about budding designer where Lumegee by Priya Ghosh's collection themed
" Morning Bliss" was all about Morning time refers to calmness, quiet and the serene environment. Designer VIJAYA KRISHNAshowcased minimalistic collection which was an amalgamation of classy and elegant designs. Delhi based designer Purnima Gulati showcased her collection called 'The Blue Eye' . The collection was a blend of interesting silhouettes and amazing styles with a distinct look and precision as they portrayed ultra minimalism with maximum comfort. Bucolic by Rituvan Guptashowcased her collection was about Ecstacy of emotions stitched in mortal garments. From Couture to Pret.
EKAM BY MANISH GUPTA showcased at the day finale. His collection themed " Grazia Di Essere Autore" –Grace of being self. The collection is influenced by a lot of bright and happy colors overpowering the grey mood of the past just like the emotions that the women at EKAM as experiencing. Poonam Dubey was a second designer of day finale show where she showcased collection themed "jharokha" the collection has been inspired by ancient Indian architecture and elements of jharokha (window) has been used widely in the collection.