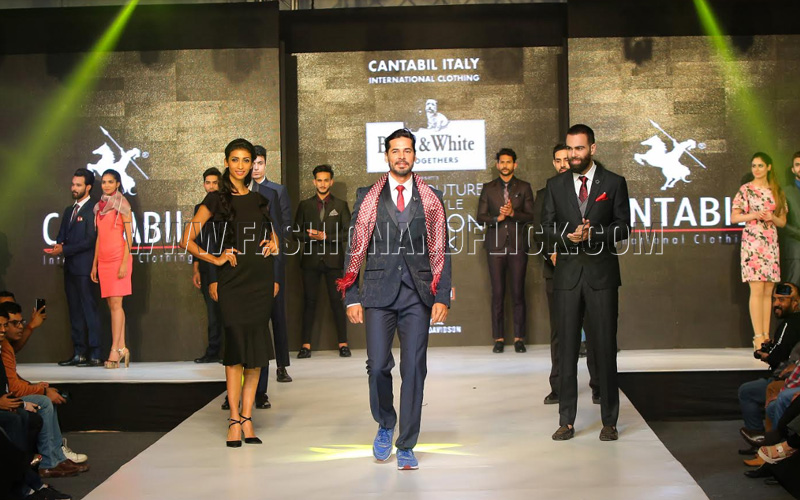 High couture fashion and ultra glamorous makeovers remained USP of this star studded night, as 2nd season of India Couture Lifestyle fashion Week reached its Finale. India's Super models Laxmi Rana, Saud Khan and Bollywood heartthrob Dino Morea upped the glam quotient to the event as they showcased vivid trends of couture fashion and looks on the ramp, joining them on the ramp were stunning models during back to back shows that took place for two days.
Highlight of the event remained exquisite makeovers created by ace makeover expert Mallika Gambhir who unveiled most glamourous and high couture makeover trends for year 2019. From timeless , traditional to contemporary, from Indo western to bespoke, melange of looks and diversified makeovers were put on display by Mallika Gambhir that celebrated vivid occasions and customs. Sheen of magnificent high couture fashion exuded the ambiance and illuminated the ramp. From timeless traditional to uber cool contemporary, from Indo western to bespoke, melange of looks was showcased and celebrated in all its diversity and glory. Sheen of spectacular Indian weddings and customs exuded the ambiance and illuminated the runway. Spectacle of ebullient makeovers based on riveting concept explored luxury and unveiled hottest trends for upcoming season.
Bollywood's star DINO MOREA looked dapper and stole hearts as showstopper for the show. Stunning Models sashaying down the ramp in beautiful looks with edgy hairdos took the show to pinnacle of glamour in makeovers from Mallika Gambhir, Her n Sir and Persona.
Explaining inspiration behind the looks for the show Mallika Gambhir stated , "Show remains the most coveted event and we feel honoured to be part of it for the second time in a row. Through the show we have en devoured to amalgamate contemporary aesthetics with traditional finess, We have presented trend setting looks that will remain in vogue in year 2019,
Organizers of India Couture Lifestyle Fashion Week, Vibhor and Gaurav Gupta stated, this was second season of the show, 1st show was unveiled in Dehradoon and second here in Delhi, we plan to travel with the show in entire country and we are thankful to all designers, models and associates for making this event larger than life and super successful.
Style sootra, Angaza silver, Brand tahera, Designers Mazhar and Prashant, Nimisha Soudriyal, Shivraj Rathore, Shahid Rashid, Vipin Aggarwal, Mini Gulati, Kingshuk Bhadri, Dimple Kapoor, Sonali Malhotra, Saara Miraz, Divisha Jangri, Nick Roshan, Nisha Waadhwani, Mehak Hirani, Heena Bilani, Meety Bagga, Show director Shie Lobo, choreographer Kapil Gauhri, Space institute of design and innovation, swaraa institute of performing arts participated in the show.
show had good presence of celebrities, stylists, industry insiders and corporate honchos.