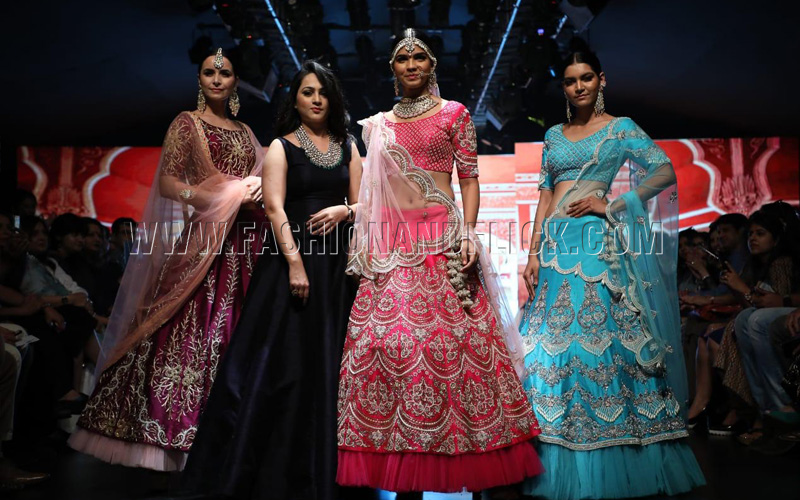 The first day of India Runway Week spring/summer 2019 started out with Rina Dhaka who opened the show, showcased summer brides.
Acid attack victim Laxmi Aggarwal sizzle on the ramp for designer Laxmishriali Rj Khurafati Nitin, Suman, Jassi and RJ yogi walked the ramp on old songs for Javik Nari, brand curated by Fashion Director of India Runway Week New Delhi, March 29, 2019; The Indian Federation for Fashion Development (IFFD) hosted the extremely anticipated eleventh season of India Runway Week at The DLF Place Saket, New Delhi. Country's third largest fashion event started with high spirit in the capital from March 29, 2019, and put up a spectacular display of the hottest trends to watch out for by some of the renowned and upcoming designers. The show had Laxmi Aggarwal who is also motivational for the upcomg movie of Deepika Padukone as a showstopper, who strutted on the ramp in style. We give you a lowdown of some of the best moments on the ramp at this fashion week. The show opened with the designs of veteran Designer Rina Dhaka. The day one of the India Runway Week was high on creativity, where experienced designers ruled the ramp, the newbies were also not far behind. The names of the 1st day designers are Rina Dhaka, ALKA Gilada, Javik Nari, Laxmishriali, Yajy by Aditya Jain, Madhulika Mehta, last but not lease Amit Talwwar.
Rina Dhaka showcased her summer wedding collection at IFFD's India Runway Week Summer 2019 for the first time. Her entire collection was a tribute to watch. Her collection had all shades of summer.
Alka Gilada presented her collection Khwabeeda which was bridal collection and had perfect blend of traditional attire with a modern outlook.
Javik Nari was a curated show on make in India and for India by Fashion Director of India Runway Week, Kiran Khera which had very authentic handmade fabric feel. In this show RJ's walked the ramp.
Laxmishriali showcased her chic collection "revolutionary goddess" in which motivational Acid Attack Victim Laxmi Agarwal walked the ramp.
Yajy by Aditya Jain Designer from kolkata showcased collection in which you can see prominent silhouettes in menswear wherease other Designer from same city Satinvogue by Madhulika Mehta collection has rimless pearls, sparkles and glitters, sequins and stones, shimmer and shine.
On the day finale delhi based Designer Amit Talwwar laughed the stunning collection " victorian allur" inspired by the royals of the great britian.