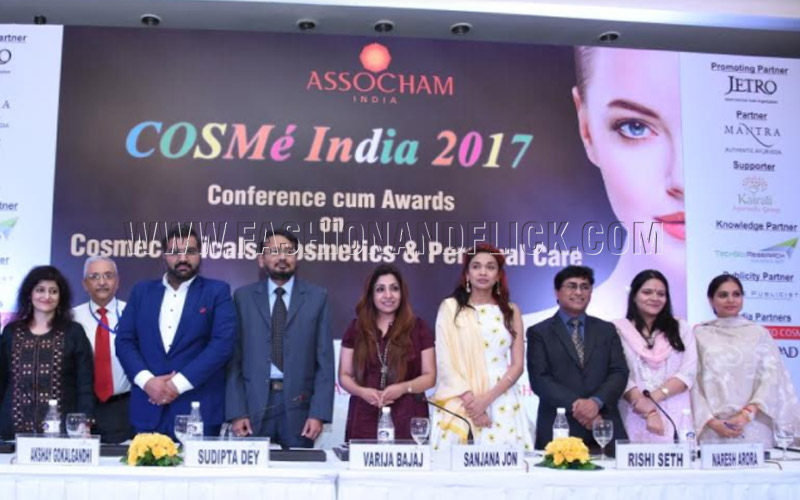 New Delhi, October 10, 2017: The Associated Chambers of Commerce and Industry of India (AASOCHAM) organised Conference cum Exhibition and Awards on Cosmeceuticals, Cosmetics & Personal Care at Hotel Shangri La, New Delhi. The association presented the prestigious awards to its 2017 award recipients during Conference cum Exhibition. The award ceremony was accompanied by list of distinguished speakers.
Ms.Sanjana Jon managing partner at boutique marketing firm IG International, based in New York. Ms. Jon appears on the panel "Putting the Puzzle Together Again" a discussion on how companies build and maintain their brand image and the importance of recreating brands over time.
Dr.Nandini Sharma, Member Central Council of Homoeopathy, Govt. of India, addressed the dignitaries at Cosme India 2017. Dr Nandini is also a member of Central Council of Homeopathy, Govt. of India; Member of Central Council for Research In Homeopathy, Ministry of Ayush, Govt. of India; Member of WG of Public Relations and Epidemic Wing of LIGA Medicorum Homeopathica Internationalis; and Member of Project Screening Committee, Ministry of Ayush, Govt. of India.
She is the honorary homeopathic physician, Rashtrapati Bhawan.
She is also the Vice President of the South Delhi Homeopathic Association.
Nandini Sharma is a BHMS, M.D. (Homeo), PhD Scholar.
Mr.Akshay Gokal Gandhi Global VP Operation Fabogo.com said, "The coming together of all industrial personalities and dignitaries was a very illuminating experience and the advantage of integrating Government bodies along and opportunities to discuss rules and regulations was indeed commendable. ASSOCHAM Cosme India initiative is a great platform that offers amazing opportunities for networking & for institutions to acquire skills in multiple aspects of the beauty landscape. This award is a testament to the skill, ingenuity, and vision of Fabogo and its team members".
Ms.Payal Swami, Deputy Director at ASSOCHAM was senior event coordinator at CosmeIndia 2017, awards cum conference event. She planned and executed this corporate event successfully.
Selected by the Awards Committee based on an evaluation of category-specific criteria, the 2017 CosmeIndia Award winners are:
Mr.Arpit Sharma-Wellness Entrepreneur of the Year 2017
Dr.Deepali Bhardwaj- Centre by Dr Deepali Bhardwaj-"Anti –Aging Treatment Clinic of the Year"
Ms.Vibha Khanna – Sawadhee Traditional Thai Spa "Standalone Spa of the Year
Dr.Krishna Kumar Keva Ayurveda Healthcare Pvt Ltd- Ayurvedic Treatment Company of the Year
Dr.Priyanka Reddy DNA Skin Clinic and Hair Centre
Dr.Priyanka Goyat Rejouve Clinique -Excellence in Smile Designing
Ms.Namita Chadhha – Chadha & Co.-Legal Contribution in Cosmeceuticals & Cosmetics Industry
Dr.Jhuraney's Stellar Smiles Clinic-Best Centre for Advanced Cosmetic Dentistry
Dr.Manu Modi – Modi's Dental & Prosthodontic Centre – Excellence in Dental Cosmetology
Mr.Akshay Gokalgandhi -Fabogo- Best Beauty & Wellness Aggregator of the Year