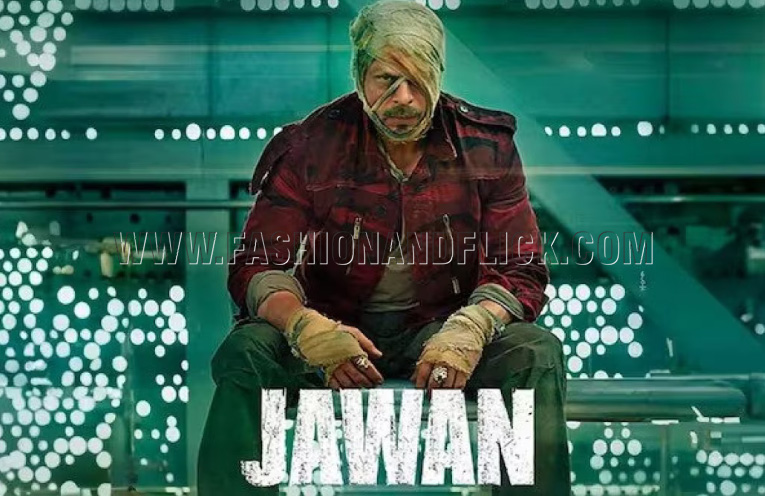 Cast: Shah Rukh Khan, Nayanthara, Vijay Sethupathi, Deepika Padukone, Sanya Malhotra, Priyamani, Sunil Grover
Director: Atlee
Run-time: 169 minutes
Rate:  4.5/5
From the filmography of Atlee comes another magnum opus in the Shah Rukh Khan, Nayanthara and Vijay Sethupati starrer "Jawan". It has cameos in it with that of Deepika Padukone and Sanjay Dutt. Along with these superstars, cast of Jawan includes Sunil Grover, Sanya Malhotra, Priyamani, Girija Oak , Sanjeeta Bhattacharya, Ridhi Dogra, Lehar Khan, Aaliyah Qureishi, Eijaz Khan, among others. Tamil director Atlee has been in talks for a film with Shah Rukh Khan since 2019. Also, this is not the first time for an accomplished southern director joining forces with a mega Bollywood biggie for an action packed film with stimulating socio-political theme. The film delivers many messages starting from farmer suicide to money laundering by businessmen in order to overpower and rule the government. After many years a film has got such a huge hit review, especially being an action film. In an average it has received 4.5-5 stars by renowned film critics.
Southern actors like Mahesh Babu have tweeted praises for director Atlee and Shah Rukh Khan. Some have compared their style of cinema similar to the work ethics of their "guru" Sanjay. Babu says, "#Jawan… Blockbuster cinema… @Atlee_dir delivers king size entertainment with the King himself!! Comes up with his career's best film… The aura, charisma, and screen presence of @iamsrk are unmatched… He's on fire here !! Jawan will break his own records… how cool is that!! Stuff of the legends."
Shah Rukh Khan responded by thanking him and expressed, "Thank u so much. Everyone is so thrilled you liked it. Big love to you and family. Very encouraging to hear your kind words. Will keep working harder now to entertain. Love you my friend."
(https://twitter.com/iamsrk/status/1700068880637718697?ref_src=twsrc%5Etfw%7Ctwcamp%5Etweetembed%7Ctwterm%5E1700068880637718697%7Ctwgr%5E7916956c309d86cdbc48f2bfcacdf177ff6614b6%7Ctwcon%5Es1_&ref_url=https%3A%2F%2Fwww.pinkvilla.com%2Fentertainment%2Fnews%2Fjawan-shah-rukh-khan-reacts-to-mahesh-babus-praise-will-keep-working-harder-1241786)
Even if you are not a fan, it is difficult to escape Shah Rukh Khan's stardom and stature as "he is the last of the stars." His fandom ranges from eight to eighty. There have been cinema halls packed as early as 5am or 6am with fans showing up with pomp and show to watch the first day, first show. There were fan clubs dressed as "Jawan" or showered flowers on his posters and standees or pouring milk over it.
Finally now the Raj, Rahul and Veer era of Shah Rukh Khan has taken a turn towards action packed films, primarily after 30 years. After that explosive opening, we meet Khan — now playing a goofy, wisecracking vigilante with a bald head —as he hijacks a metro train in Mumbai. He's assisted by a squad of female fighters, most of whom get names and a few elite ones back stories. Also on the train is Alia, the daughter of a dead-eyed arms dealer named Kaali (Vijay Sethupathi in a mean beard). It's revealed soon enough — spoilers ahead — that Khan in the present timeline is actually Azad Rathore, the jailer of a high-security women's prison who is an ethical terrorist. What's more, Azad is set to marry Narmada (Nayanthara), the fearless negotiator he was making song requests to while leading the hijack. It's an opening sequence that shall be remembered for the ages. Somewhere along the northern borders of India, a battered soldier recovers. The kindly and idyllic village he's resuscitating in is set upon; people are shot, stabbed, drowned in a creek. The soldier rises like a messiah, swooping down with a spear against a thundering sky. We don't see his face yet, wrapped in gauze, though his eyes fill us in. The staging is spectacular, mythic and rimmed with darkness. There's also a flaming horse darting across the screen. No wonder Japanese video-game designer Hideo Kojima couldn't contain his excitement on social media. As weird as it may sound, "Jawan" is, after all, the most Metal Gear-ish Shah Rukh Khan film.
The action in "Jawan" is as slickly persuasive as you'd expect from a big-budget Atlee film. Drones, choppers, guns; the director raids the whole inventory of Hollywood-style action blockbusters. However, what really sells these set pieces, besides some fluid jumps and kicks from Khan, are the smudges of Indianness applied to the grand canvas. I loved the idea of one of the hijackers leaving the crime scene in an auto or the flashback of Deepika Padukone slamming Khan in the mud. As in his past films, Atlee roots his action in urgent social justice anger. Khan launches his own "Swach Bharat" campaign, taking on one faulty establishment after another, from agriculture to healthcare and (more subtly and respectfully) defence. At least three different characters are labelled 'deshdrohi' (traitor) as the film insistently points up the insidiousness of the movie including chicanery, corruption, criminality and deceit of such claims.
If you are looking for information on whether SRK's released movie "Jawan" will be hit or flop then you must know that the first day box office collection of this movie is going to be more than ₹80 crores in India only, and it is possible that the world wide collection can be around ₹150 crores. Not only this, but it is expected that by the weekend the box office collection of this film can cross 300 crores only in Hindi language so far. This movie will not only be a hit but a super hit and will set many records, which hardly any upcoming movie can or has broken.