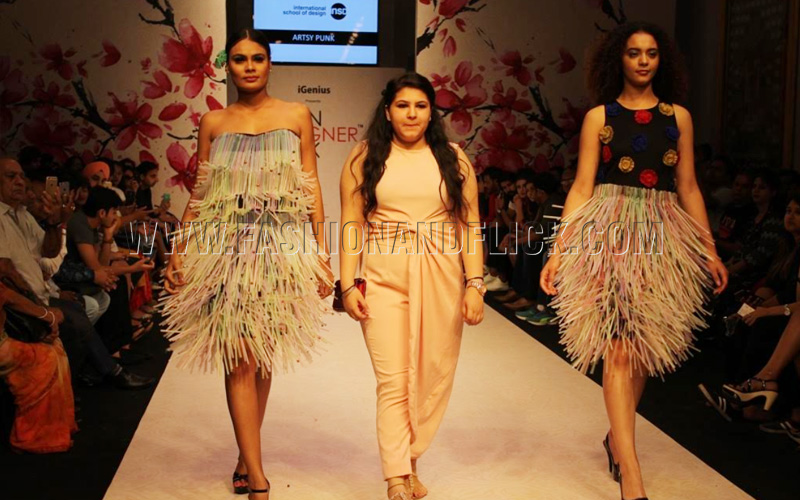 New Delhi, 30th, April: Fashion is at the forefront this summer as International School of Design, New Delhi one of the premier design school in India once again electrifies the city with its high impact, fully integrated fashion show featuring the creative minds of INSD with their breathtaking collections at the Bikaner House, New Delhi on 30th April 2018.
The grand INSD fashion show with sustainable fashion as its core theme rightly named "ECO FASHION 2018" travels you across all boundaries of design and witness the extraordinary creations at its glamorous best. . It was time to back pack and sneak peek in jet setting Diva's fashion Pandora. Soaked in the paradise of this diverse extravaganza and celebrate the ultimate style. Each INSDIAAN had dexterously worked on sustainable fashion with each of their individual collection and extracted the best vision from their creative young minds .Who's who from Delhi fastened their fashion bells and checked in their style passport to take off on the razzmatazz runway of easy chic! The themes presented by students are given below.
n addition to being a unique opportunity for upcoming talented fashion designers, the event will also spotlight the finest upcoming Interior Designers. The concept of this exciting event is to create a posh environment to enjoy a top-of-the-line runway show.
We, at INSD live and breathe design and this event was the highlight of our finely designed academic training, practical training & industry centric programs said Mr. Sunjey Aggarwal, Founder & CEO. The grand fashion event featured the innovative designs in fashion & interiors. The event also featured innovative products by Interior Design Students and interesting giveaways.
The following are the details of the participating young budding designers showcasing their breathtaking collection with their respective themes at Eco Fashion 2018-The Grand Fashion Event held at the Bikaner House, New Delhi on 28th April, 2018.
1, COLLECTION TITLE: ARTSY PUNK
Punk Artsy as the name suggest, invokes the independent creativity of the person. These are for usually the ones who want to make a statement of their own by the clothes, they wear. Sometimes making nonwearable things wearable and most of the times, they are creators of their own fashion. It is not following the traditional norms. It is one of the most versatile of fashion which is sustainable. The unconventional form of art leads to innovating very many interesting forms of trends, which are not restricted by the usual textbook nature of creating fashion.
INSDIAN STUDENT DESIGNER NAME – Ms. GURSIMRAN KAUR
2. COLLECTION TITLE : LAYER OF DESIRE
The layer of Desire is at the core of romance novels, which often create drama by showing cases,where human desire is impeded by social conventions,class or cultural barriers. The collection is made keeping in mind to create drama and attention on the floor, also collection features Indian touch in modern era. The whole collection is sustainable as there is use of scrapped sequences and fabric pieces into collection to give Indian touch.
INSDIAN STUDENT DESIGNER NAME – Ms. SIMARPREET KAUR
3. COLLECTION TITLE : RUGGED
Being galvanized from natural beauty of nature (Rainbow), our collection represents the different tinctures,which gives it a bewitching glance. Our collection is designed as rugged means naturally ripped or something uneven and raw. We have fabricate our collection by using eco friendly fabrics ,which are scrapped or used that goes through sustainable fashion and gives funky peek to the collection.
INSDIAN STUDENT DESIGNERS NAMES
Bhavika Khattar
Nikki Verma
Ritu G.C.
Ritika Hinduja
4. COLLECTION TITLE : BOTANICA
Our collection portray the natural beauty of spring season and motif is to illustrate the component of Mughal garden, which is evergreen fascination with all floral as flowers triggers happy emotions.
Spring " A lovely reminder of how beautiful change can truly be."
USP of the garments is ruffles and cascades. As we are rendering botanical prints by using eco-friendly fabric consist of cotton.
INSDIAN STUDENT DESIGNERS NAMES:
Garima Jain
Komal Gupta
Suman Pachori
Rashi Durga
Kajal Gupta
5. COLLECTION TITLE : ANUBHUTI
Our collection 'Anubhuti' is inspired by textures. Texture is defined as a textile quality of an object surface. Use of texture along with the elements of design can convey a variety or messages and emotions as it appeals to our sense of touch. We have created fabrics to define sustainable and to give striking look to the garments.
INSDIAN STUDENT DESIGNERS NAMES
Kirti goel
Sneha khalkho
Tanya suman
Sapna kumara
Reetu sandhu
6. COLLECTION TITLE : INTERIOR DESIGN DEPARTMENT PRESENTS
All srticles are intricately designed and inspired by the themes played by their fellow fashion department students, the interior students are extending their own creations with sustainable material and creative ideas.
INSDIAN STUDENT DESIGNERS NAMES
Rupal Rana
Kanika Jain
Bhavya Jain
Lalit Nehra
7. COLLECTION TITLE: SAAJJ KRITI
Inspired from natural beauty of Manipur, our collection depicts the elements of Manipur, one of which is appliqué.
The aim is to create a collection using eco-friendly fabrics comprising of wool and recycled yarns. The collection is designed keeping in mind the Indian to contemporary touch, which can be seen through the appliqué work with structured silhouettes. Collection features are fusion of traditional design combined with modern appeal to create a unique and inimitable range through style textile.
INSDIAN STUDENT DESIGNERS NAMES
Priya Aggarwal
Himani Singh
Bhumika Mathur
Ashutosh Ray
Samidha Choudhary
Divya Kukreja
Mamta Malik
Mohd.Arshad Malik
8. COLLECTION TITLE:Kanthkifal
Inspired by a Sanskrit word Kanthkifal, our collection uses geometrical shapes like cones, pyramid along with drapes in traditional form. The idea is to craft clothes in a stunning 3D non wearable silhouettes that are clean and cutting edge with a flawless fusion of Indian and western influences
INSDIAN STUDENT DESIGNERS NAMES
Ranjeet Singh
Pooja Rawat
Amreen Khan
Shailja Jangra
Manvi Jain
Leedang Konyak
Neelam Tanwar
Manisha Sharma
Purnima Malhotra