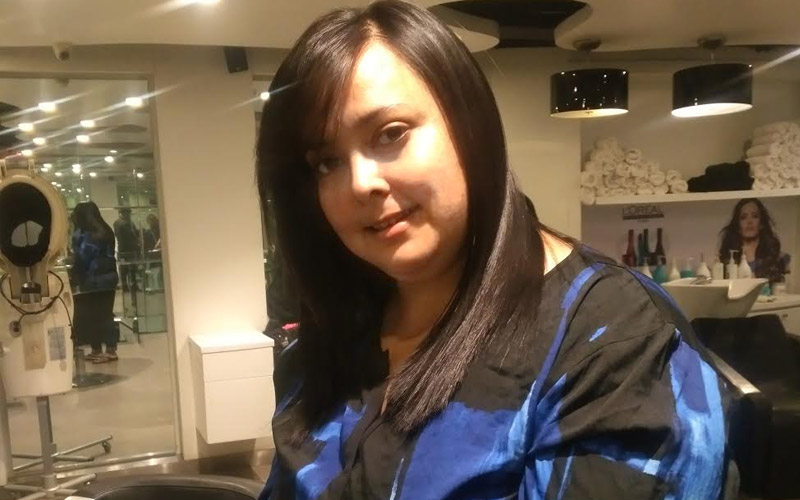 Hair Taming Session at Looks Salon, Noida Sector 18 with GK hair products.
This review is for all those who are scared of hair treatments because of a myth that the products used in the salon spoil the hairs or have had a bad experience in the past.
I have struggled a lot in the past with my hair after two rebonding sessions done to my hair until I was introduced to GK Hair Professioal Products. GK Hair products from Auraine Botanicals are super products that have Juvaxin. Readers! this must be a new term for you as it was for me until I understood what is it exactly. Juvaxin is a keratin anti-aging protein blend that repairs, protects and fortifies hair and gives them strength. Hair Taming system by GK hair is hair smoothing procedure with Gk Hair Products that is enriched with Juvaxin and are safe to use on hair.
I was about to go abroad for a month long vacation to Lagos and wanted to do something to myself. So I booked an appointment at Looks Salon, Sector 18 Noida. My Hair condition was not so great when I entered there and was looking to give my hair a new life. I went for Hair smoothening procedure with GKHair professional Hair Taming System which took about less than two hours to get complete and at the end of it, i was happy with the new look and feel of my hair.
Before the session
My hair wash during the procedure
My hair got a new life with GK hair products with Juvaxin
I am so happy with the results
A pic with my hair expert at Looks Salon, Sector 18, Noida
This is my Hair after a month of the treatment. Wanted to be sure about the results before the post. The result is still superb. Just a few tips.One, always blow dry your hair as it keeps your hair in proper shape and condition. Second, it is recommended that you use Hair care kit by GK hair for long lasting results. I make sure that I wash my hair with their Color protection moisturizing Shampoo and Conditioner as it is free from sulphate and other chemicals and is with Juvaxin as i feel good that I am using products that will benefit my hair with every wash.
Also, please note that any Hair Smoothening is a procedure that does not straighten your hair hundred percent but make a significant difference in the look. Results vary as per hair type.