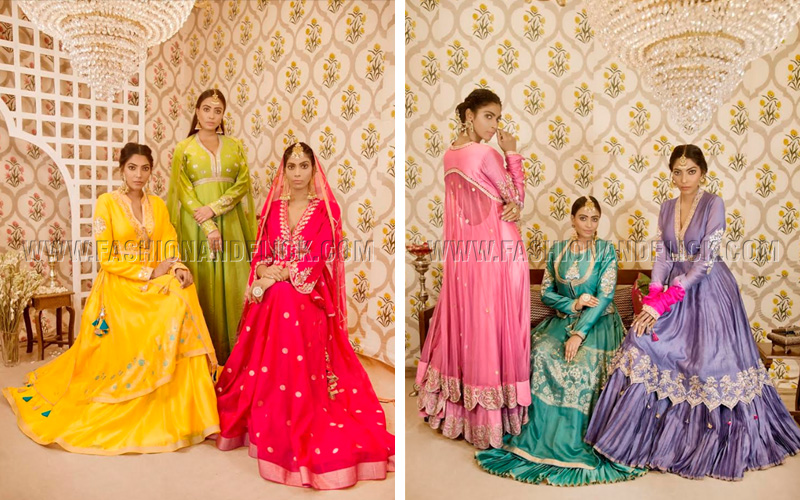 Mumbai, August 2018: Delhi based fashion label, RAR Studio is unveiling their collection "Sheesh Mahal"at Carma store in Delhi on 17th August 2018.
The dynamic trio – Ritesh Rajpoot, Aniket Sinha, and Rishav Sinha launched this Couture/Luxury Pret brand to showcase their collective talents. Their recent autumn-winter collection is their labour of love that includes ethnic designs with a touch of contemporary twist.
Sheesh Mahal is a collection inspired by the regal extravaganza of Indian textiles and architecture thus encapsulating the essence of heritage and crafts of India. The ice kissed colours used in the collection make it seem contemporary despite its royal influences.
The silhouettes are ethnic with elegant drapes that make them perfect for the men & women of today. The use of fine craftsmanship and rich handloom weaves is evident in each design. The collection is highly influenced from the Majestic Murals, Floral Bouquets, Arabesque, and Mughal pattern and mirror work from Sheesh Mahal.
Whether it's the lehengas, Indian suits, sarees, straight kurtas or anarkalis, all ensembles ooze royalty. The highlight of the collection is comfort amalgamated with elegance. RAR Studio believes that their collection represents the women who like to make a grand entrance and yet be comfortable in their attire all through the night of the event.
Designers Ritesh Aniket and Rishav of RAR Studio feels – Bagicha is collection which resonates to every Indian women of any age group and skin tone. This collection is for today's women who wants pester free clothes and at the same time want to make a grand entry in any occasion. It is for every woman who loves the heritage of Indian weaves and textiles. We are very happy to launch our line at Anantam which promotes Indian aesthetics in global style.
So come, and shop at:
Anantam – Multi designer store
Address: E-4, South Extension, Part 2, New Delhi – 110049
Contact: 011 4601 3735