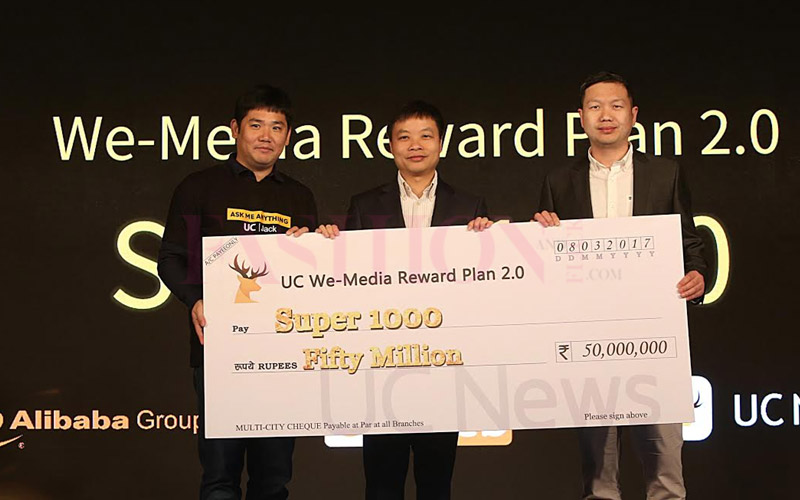 Highlights of the plan:
– UC News Registers 80 Million Monthly Active Users in India in less than 9 months
– Eyes Big Data AI Technology for content to achieve its target of making GUF a reality
– Aims to make UC We-Media India's No. 1 content generation and service platform in 2017
– Launches 'Super 1000' to select 1000 We-Media Contributors with a minimum payout of 50,000 INR per month
Alibaba Group's UCWeb Inc has announced the launch of We-Media Reward Plan 2.0, a self-creating content platform in India with an initial investment of 50 Million INR.
The internet big player is investing 2 Billion INR for driving content distribution in India over the next 2 years. UCWeb's content distribution platform UC News, launched in June 2016, has emerged as one of the fastest growing apps in the country with a Monthly Active Users (MAUs) of over 80 Million in India (as of February 2017).
The new initiative was announced in India by He Xiaopeng, Co-Founder UCWeb and President, Alibaba Mobile Business Group.He said, "Dominance of mobile and digital proliferation is leading to an increased adoption of mobile internet and is making India 'Digitally Ready'. UCWeb is realising its vision of "Serve half the population of the planet", and we are moving forward to the era of "GUF" (Google, UCWeband acebook).
The investment falls under Alibaba Digital Media and Entertainment Group's targeted investment of $7.2 billion in content over the next three years."
We-Media Reward Plan 2.0 – A game-changer in the content ecosystem
We-Media Reward Plan 2.0 will enable budding and talented writers to write and earn. It will open the door of opportunity to the most talented writers in the country. 1000 We-media writers will be recruited in India and Indonesia who will be able to earn at least INR 50,000 per month through the UC News platform. UCWeb has been setting new trends under the UC We-Media program where people get an opportunity to create, to write, share thoughts and engage with their followers on UC News.