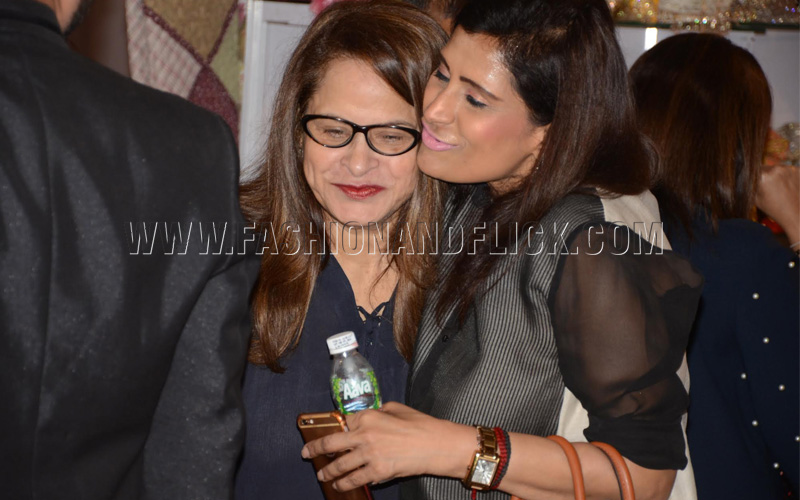 New Delhi: Ramola Bachchan presented Runway Rising on 10 th of April at the Ashok Hotel, Delhi. Runway Rising is indeed a shopper's paradise with over 100 fashion & lifestyle brands from across the country. 22 nd edition in 7 years of conceptualization since 2012, the exhibition showcased a wide range and variety of clothing, jewellery, home décor and much more.
Shahnaz Hussain and Sumit Diwan with Rishika Khera
With each edition Ramola Bachchan takes Runway Rising a notch higher and this edition was no different. The power packed show offered great deals and exclusive offers on all brands and had something for everyone in it. From wedding outfits to trousseau wear, fine jewellery, destination fashion accessories, home accents, summer dresses & jumpsuits, shoppers went home with big smiles and handful of shopping bags.
Being centrally located and exquisite: at The Ashok Hotel, New Delhi this exhibition witnessed a very positive response from Delhi's elite fashion forward crowd.
"I always try to bring hidden talent from smaller cities of India and try to provide a platform to all those designers who need a chance to showcase their creativity. It is exciting to see the quantum of talent and entrepreneurial spirit that proliferates in our country and gratifying to have an opportunity to be part of a process that will shape the fashion-scape of the future." says the curator Ramola Bachchan.
With accessories starting from as low as INR 2000, there was jewelry, gifting options, beauty, and home decor options for the upcoming summer wedding season. True to it's promise of being a unique shopping extravaganza, Runway Rising's participating designers, jewelers and wedding décor brands included some of the most well known names in the industry including: Shri Paramani Jewels, Balance by Rohit Bal, Vidhi and Saurabh, Kumud Designs, The Pink Mirror, Kylee, The SG collection, Devanshi Jewels, Sanam Tamanna, Dubai and many more.
Indeed a fashion haven for all the fashionistas of the city, the exhibition saw many of Delhi's known socialites in attendance including ace-designer Monica Malik and makeup expert and oracle Shehnaz Hussain.
Picture Mandates: Ramola Bachchan with Monica Malik, Shahnaz Hussain
Date: April 10 th 2019
Venue: The Ashok Hotel, Chanakyapuri
Time: 10 A.M. – 8 P.M.