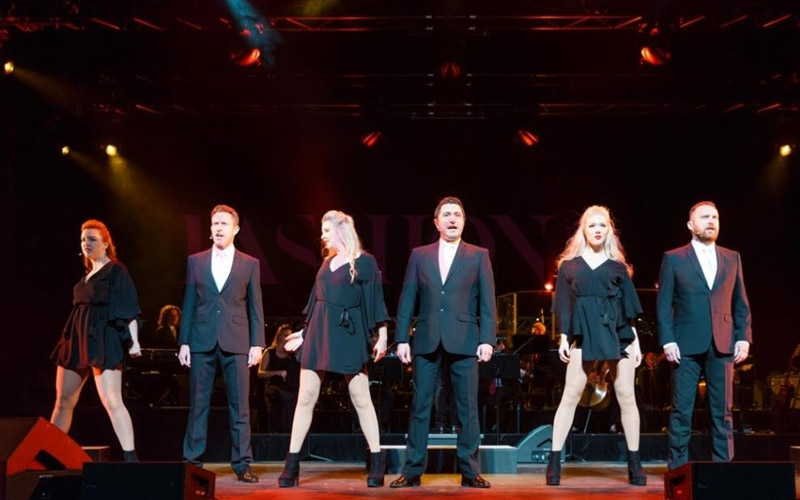 Macao, February 28, 2017: Three Phantoms, a musical theatre show featuring songs from some of the world's best-known musicals, will run at The Parisian Theatre, The Parisian Macao from March 3 – 26, 2017.The media had the opportunity to meetThree Phantoms performers today at The Parisian Theatre during an exclusive show preview.
A huge international success over many years, Three Phantoms is a spectacular production featuring three singers who have performed the male lead in Andrew Lloyd Webber's genre-defining musical, The Phantom of the Opera.
Charismatic performers Kieran Brown (Scotland), David Shannon (Ireland) and Earl Carpenter (UK) will be joined on stage by a world-class backing chorus of critically acclaimed West End and Broadway performers, including singers Alistair Barron, Olivia Brereton, Marisa McIntyre and Lisa-Anne Wood, dancers Rachel Chapman, Paige Starbuck and Joanna Walters, and a 15–member Concert Philharmonic Orchestra, headed by renowned musical director/conductor Mark Aspinal.
The show includes more than 20 songs from some of the best-loved musicals, including "Tragedy" (Saturday Night Fever), "Bui Doi" (Miss Saigon), "Anthem" (Chess), "Bohemian Rhapsody" (We Will Rock You), "Defying Gravity" (Wicked), "Dreamed A Dream" / "Stars" / "A Heart Full Of Love" / "Bring Him Home" / "One Day More" (Les Misérables), "Memory" (Cats), "A Guy Like You" (The Hunchback of Notre Dame), "This Is The Moment" (Jekyll & Hyde),
"The Music of the Night" (The Phantom of the Opera), "For Good" (Wicked) and many more. Its beautiful staging will recreate the drama and excitement of the great musicals with a finale celebrating one of the world's most successful entertainment events – The Phantom of the Opera.
Incredible performances alongside beautiful staging and lighting will evoke the drama and excitement of these world renowned and much celebrated musicals.
Earl Carpenter, who in addition to appearing in Three Phantoms, also devised and directed the concept through his company Ginger Boy Productions, said that it will be a very special occasion on several counts.
"While Three Phantoms has already performed to well over 100,000 people since its conception in 2008, this is the first time it has been in Macao, and the first time at The Parisian Macao and this magnificent venue."
Tickets for Three Phantoms, which runs from March 3 – 26, 2017 at The Parisian Theatre, are still available via Cotai Ticketing, priced HKD/MOP180-480, and can be booked online now at www.cotaiticketing.com or by phone at +853 2882 8818 (Macao) /+852 6333 6660 (Hong Kong) / 4001 206 618 (China toll-free).