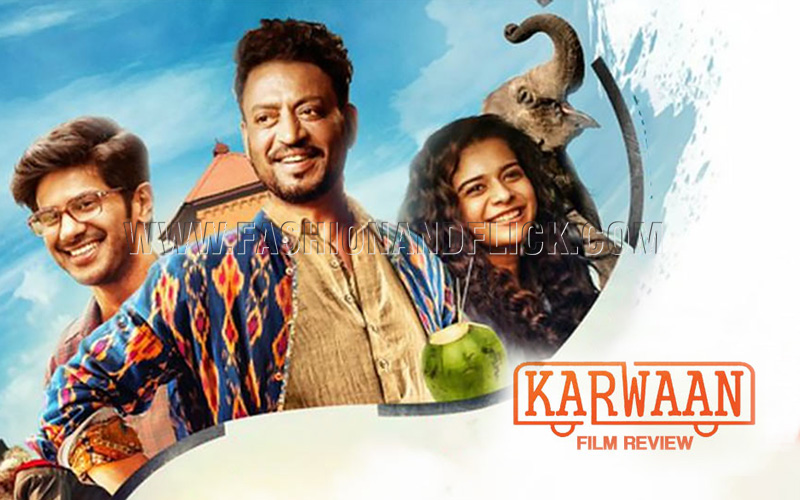 Star Cast: Irrfan Khan, Dulquer Salmaan, Mithila Palkar, Kriti Kharbanda
Director: Akarsh Khurana
Genre: Drama
Rating: 2.5/5 Stars
Karwaan is a sweet and fun film based on the life of three characters Shaukat (Irrfan Khan), Avinash (Dulquer Salmaan) and Tanya (Mithila Palkar) who promise to take us on an adventurous journey. All three of them belong to different walks of life but have one thing in common, they are all lost souls, or rather deaths.
In this movie Avinash, in his late 20s, is a depressed and repressed man who is leading a life he never wanted for himself. Through flashbacks, we realise that he blames his father for the state he is in. His life changes when he receives the news about his father's sudden demise. He, then, goes on a journey of a lifetime with his friend cum car mechanic Shaukat and is joined by an unlikely ally in a teenager Tanya. The best thing about this easy breezy road movie lies in its subtlety. You will never be spoon fed about the character's thoughts, emotions or even the life lessons the film talks about.
It is like a never ending road trip flim. The film has an unique ability to make you cry and laugh at the same time. Just like life.
Talking about the performance, Irrfan Khan brings in a fresh whives of humour with his terrific comic timing and his hilarious one-liners that leave you asking for more. Malayalam hearthrob Dulquer Salmaan proves yet again why he is one of the best talents we have around. If Irrfan is the heart of Karwaan, then Dulquer is the soul. Mithila Palkar makes a confident debut, but the role was a little more flat.
Overall Karwa is a good movie. If you are free this weekend you can watch the movie. You will find yourself smiling foolishly throughout the film, and that's where it wins.
Movie review by : Anupama