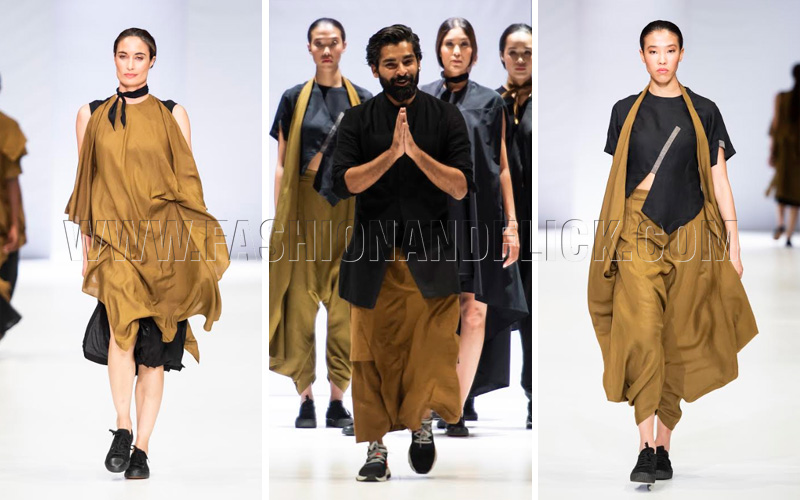 Antar Agni by Ujjawal Dubey showcased their new collection at the 21st edition of South Africa Fashion Week that took place in Johannesburg along with designers from other BRICS countries such as Brazil, Russia, China, and South Africa. He was one of the two Indian designers that were selected by IMG Reliance to represent India at the first ever BRICS countries fashion showcase happening at the South Africa Fashion Week.
Antar-Agni, as a brand firmly believes in letting the fabric do all the talking. The silhouettes created merely help the fabric tell its story through the seamless designs and smart cuts. Letting it be as raw as it gets.
The collection comprised of sustainable natural fabrics including hand-woven textiles in cotton and silk made by the artisans in Meerut, Uttar Pradesh. The collection is stylised with subtle layers and drapes for festive and everyday wear. The dark shades of black, and grey add the intensity to the line which is then interrupted by the metallic details and a hint of mustard that lends it an energetic and eclectic vibe. Keeping with the tone of the line, the silhouettes are a mix of layered drapes along with the classics, that are in sync with the brands signature style.
Another exciting announcement from the brand is that they have launched their e-shop https://antar-agni.com. Since it aims at facilitating an easy purchase of his illustrious label for customers, no matter where they're located