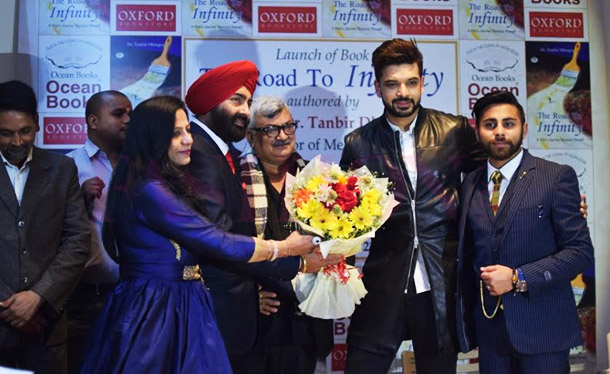 New Delhi, 22nd January, 2017: After achieving success in his professional career and to pursue his passion of writing Dr. Tanbir Dhingra recently launched his maiden book called "The Road To Infinity" on 21st January, 2017 at Oxford Book Store in CP. The book is a self- explanatory odyssey to infinity and teaches us to build a life of passion, value time, stay fit, nourish relationships and cultivate innovation of colors and creativity.
Famous film and television
actor Karan Kundra was
also there at the occasion
to grace the evening.
In words of Dr. Tanbir Dhingra,
"My book "The Road To Infinity" is
very special to me. It helped me
transform my life for the better as
it will for you. The book will help all
my readers to gain wisdom toward
s what life is. It has its entire focus on self exploration of ones journey through life and baked quotes conscious. "
In words of Actor Karan Kundra, "" I am very excited to be at my very first book launch. I have received many invites but none got me as exicted as this one. The book being written by a youngster motivates us to encourage young talent. It is not just my pleasure but also my responsibility to help encourage such young talent. I want Mr. Tanbir Dhingra to set a benchmark for other people inorder to thrive towards creativity"."
About the Book – "The Road To Infinity"
"A WAIT TILL INFINITY AND OUR IMMORTAL SOULS DESTINED FOR ETERNITY"
Does chasing your dreams come with terms and conditions applied?
A Self-Exploratory Odyssey to 'Infinity' and 'Beyond' with Infinite Thoughts encapsulating Infinite Emotions in Infinite Moments giving Infinite Chances to explore 'Who You Are' in the quest for 'What Is life'.
A magically crafted peregrination of quotations reveals a deep longing for greater sense of meaning, happiness and contentment. It helps to create enchanting thoughts that incorporate the classic tools of transformation into simple philosophy of living. This is not just another book that should find its way to self-help shelf; rather it's a coach to motivate you and a best friend to inspire you forever. The book teaches us wisdom to:
l Build a Life of Passion, Purpose and Peace
l Value Time as our most important commodity
l Stay Fit by creating healthy habits not restrictions
l Nourish our Relationships and value things we Love
l Cultivate innovation of Colors and creativity from Nature
Come… Experience Love, Emotions, Solitude, Despair, Failures, Regrets, to Heartbreaks, Revelations, Chances, Motivation, Prosperity, and Success.
Price: Rs. 200
Publisher: Ocean Books Pvt. Ltd