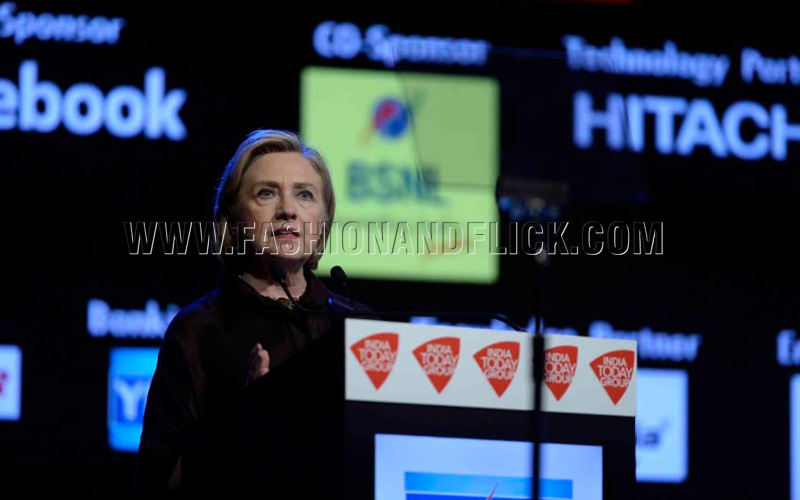 Mumbai, March 10, 2018: Democracies across the world, including US and India, are at crossroads and there is a need to stand up against the chaos to protect democracy, said Hillary Rodham Clinton, former Secretary of State of the United States at the concluding session of the India Today Conclave 2018. "Never before we needed your (India's) energy like now. There is a need to speak against sexism, racism and stand up at this crossroad moment. Don't give way to anger, resentment and disappointment. Stay engaged, speak out," Clinton said in her keynote address, titled 'The Great Churn: What Happens Now'.
Clinton said both US and India are facing serious undercurrents that are threatening to strike at the roots of democracy. "He (US President Donald Trump) will damage it. However, it will be reparable," she added.
Talking at length about the situation in the US post the 2016 US Presidential elections which she lost to realty tycoon turned politician Trump, Clinton said that she did not have a problem with a power difference in her country but was worried about fewer debates on pertinent issues, that will take it towards one-party dominance. "That is the situation in Washington at present," she said.
While analysing her defeat, Clinton said that it was "the first ever reality TV election" in the history of the US – 'reality TV' because a person who is the most outrageous and prone to say incorrect things gets away with it, drawing big rankings. Many people were, unfortunately, attracted to such diatribes. "Voters have to be trained," she said. TV debates are entertaining, but they do not give more information to voters. "I should have given them more entertainment," she said in a sarcastic remark directed at Trump.
When Aroon Purie, Chairman and Editor-in-Chief of India Today Group asked Clinton whether US deserved a president like Trump, she was quick to say "No." She also said that Trump could not understand why a country that has nuclear weapons did not use them.
Clinton counted reaction against the immigrants as one of the reasons behind Trump's win. She said US has immigrants from Latin America, India and China. They are hard working and law abiding, but there was a campaign against the immigrants. Trump's campaign of 'Make America Great Again' was backward. "I won from the places which has 2/3rd share in the gross domestic product." She also admitted that a smearing campaign was on, saying she was going to jail. "That stopped my momentum and decreased my votes," she said.
Clinton suggested that Russia President Vladimir Putin influenced the elections in the US because he had personal issues against her. "He is not the best of feminists I have met," she said. She claimed that Putin was against her because he suspected she fanned a protest against him in the 2011 Russia election. "I was also outspoken on the Russian invasion on Syria. We had professional relationship. We had conversations but he wanted to restore greatness of Russia." Russia was trying to divide Americans and put them against each other.
Expressing concerns on changes in the US foreign policy post 2016, Clinton said the new administration is in hurry to dispose of the earlier relations the US had painstakingly stitched with other countries. "It is a shame that US is the only country that is not part of the Paris climate change accord. He (Trump) is undoing and rejecting everything done before. He takes ideas from the right wing media."
Talking about stability within India's neighbours, she pointed that Afghanistan is an ongoing disappointment. She also hit at Pakistan for offering shelter to terrorists. "We tried different things, but when you have safe haven and not consistent support to weed out terrorists, it is difficult to find a solution." She also revealed that she had recommended President Barack Obama to conduct a raid on Osama Bin Laden who was hiding in Abbottabad, Pakistan.
To a question whether she would run again for President, Clinton said she had no plans to do so. "I won't run again. I will be delighted if 2020 we are back on right track. I want to work for people's betterment."
In his introduction of Clinton, Purie said that "There are all kinds of titles. There is the President of the United States; before that it is President-Elect or President designate; Presidential candidate, Presidential nominee and so on. May I take the liberty of giving you a title: Should-Be-President. Had Clinton become President, the US and the world would have been abetter place.
The hard fought election of 2016 is now well and truly behind her, but as the daily headlines about Russian interference show, Hillary Clinton was right all along, said Purie. "Even as she kept the focus on the big issues of inequalities of income, inadequacies of healthcare and complex foreign affairs, her opponents harped on her emails. But as another strong woman Michelle Obama said, when they go low, you go high," she added.