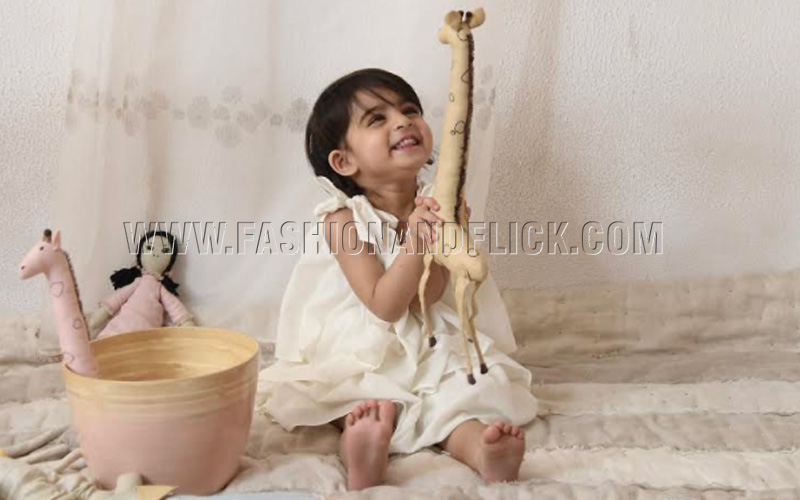 Busa and Friends
What are toys, if they don't tell wonderful stories? This was Anavila's first thought when she started looking for toys for her niece. However, her quest to find the perfect playmate for her niece failed when she came across toys that weren't unique or contemporary in any shape, size or form. Hence, with an aim to create something wonderful & thoughtful for kids, Anavila has now launched a full collection of handmade toys called 'Busa and Friends'.
Derived from a Sanskrit word which means 'little sister' Anavila created these handcrafted beauties that are contemporary, yet have a strong connect to the Indian roots. The toys have been created with linen, organic cotton and khadi using garments from her current collection. The beautiful hand details by the artisans lend a personal touch to the toys; the attention to detail making them so special and one-of-a-kind. The fact that each toy has its own character makes them extremely relatable to the kids, adding to the overall charm. From naughty monkeys to cute rabbits, cats and giraffes, these toys tell the tales of Panchatantra and have various layers to them, once the child gets to know them better. If this wasn't enough, they also come with fresh sets of garments that can be changed! Earlier, Anavila had introduced us to 'Busa' dolls or sari dolls, a refreshing concept that gave way to this current collection.
The price range is Rs.1200/- to Rs.6500/-.
Inbetween by Anavila
A time in between time; a space quiet and slow. This season 'Inbetween', Anavila's SS'18 collection brings together cherished dreams and distant memories to rejoice the stillness in you.
Soft pastel hues and delicate floral imagery captures the essence of a slow romantic summer. With an amalgamation of familiar techniques, unique in its application and presentation, 'Inbetween' makes for the ideal go-to-ensemble for the balmy weather. Known for her textile innovations and love for linen, Anavila combines her signature block printing with beautiful craft techniques such as batik, jamdani and khatwa. Cross stitch, one of the oldest needlepoint technique has been used to create charming motifs. The collection offers loose, fluid and soft silhouettes in the form of flowy blouses, breezy kurtas, light-weight saris and charming separates in linen, khadi and soft silk blends—perfect for a day out in the sun. The block prints are soft, blurry and water-like, while the colour palette remains close to refreshing natural hues in whites, beige and muted tones of rose, periwinkle and soft yellow.