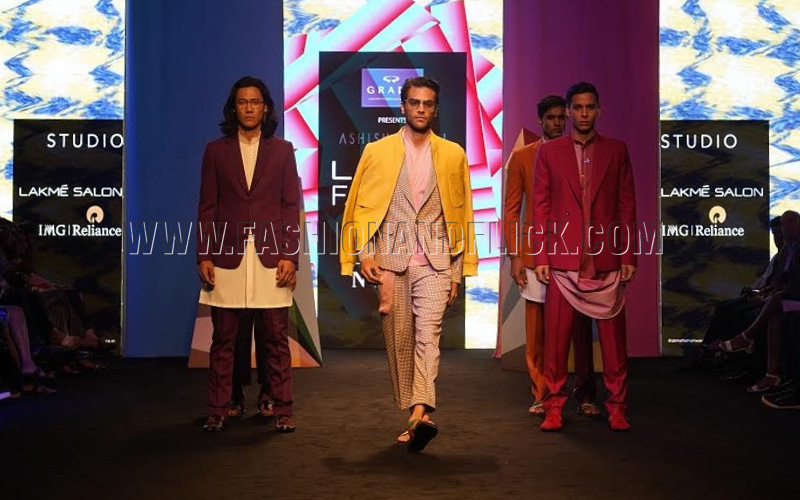 Mumbai, February 2019: Well revered for its quality and a leading name in the Fabric and Apparel Industry, GRADO from the House of GBTL and OCM took fashion industry by storm with their first ever showcase for Menswear at Lakme Fashion Week Summer/ Resort'19'. In association with top fashion designer,Ashish N Soni, the collection was an Ode to Beau Brummell, who is often known as 'The Father of Men's Fashion'. The prestigious event was held at Jio Garden, BKC on 1st February, 8 pm. GRADO utilized this opportunity to present a unique array of fabrics through the combination of superior products with superior designs.
Associating with Lakme Fashion Week for the first time, mega textile brand, GRADO, wowed the ramp with its refreshing new range of designs for the 'New-Age' man. In alliance with top fashion designer, Ashish N Soni, The symbolic traditions of the brand were carried throughout the collection with multiple use of stripes, checks, plaids and solids. There was also a mix of blends at play in this collection – from soft cottons, poly blends with sheen to the royal wools with micro and macro structures in prime focus. The various hues included interesting weaves in bold chalk stripes, 'Prince of Wales' checks, window-pane plaids; a range of soft pastels and others in strong bursts of bright colors.
Lakme Fashion Week is the most prominent platform to showcase the best collections to the world of fashion. India's best & leading fashion designers come to showcase their upcoming collections to the world of fashion. This year, LFW kicked off its Summer / Resort '19 with an exciting mix of #GenNext and Emerging Designers. It has brought the best that fashion has to offer with stellar Summer collections presented by an exciting mix of Established and Emerging Designers.
Grado's latest collection brought an element of style and substance in various blends of Cotton, PV, TR & PW. It also amalgamated global fabric trends such as broad and thin stripes, windowpane checks, bright colours and some classic styles, with contemporary designs. The garments spanned across a range of diverse occasions such as office wear, formals, resort, casuals, sporty, ethnic and much more. Apart from the plain vanilla designs, the garments also included ultra-flare trousers, shorts, single-button double-breasted suit and much more!
Speaking about the association, Mr. Rajendra Agarwal, Mentor, GRADO said, 'We are delighted to make our fashion show debut at Lakme Fashion Week S/R 19'. Ever since the launch of GRADO, it has been our endeavor to constantly innovate and create masterpieces for the world of textile and fashion. This has also enabled GRADO to garner the trust of the consumer as a fashion forward brand. The alliance with Ashish N Soni and his fabulous designs has been translated beautifully with our collection that showcases the look of an infinitely well-travelled global man. Our fabrics are really world-class; teamed with Soni's innate ability to transform them into equally fascinating ensembles, the collection is sure to be a huge success. The range is versatile and will appeal to a large audience."
Commenting about the association, Fashion Designer Ashish Soni said, "I am very happy to have associated with GRADO Fabrics for their first ever show at Lakme Fashion Week S/R'19. I think the fabrics are absolutely stunning and the drape is impeccable. We are all pleased with the end result. This collection, in modern and contemporary manner, is an ode to Beau Brummell who many consider to be the father of men's fashion. I thank the GRADO team for their constant support and for the synergy between both our teams. It has been a great pleasure to work with them for this association and I look forward to more of such collective unity between fashion, style, comfort and aesthetics.