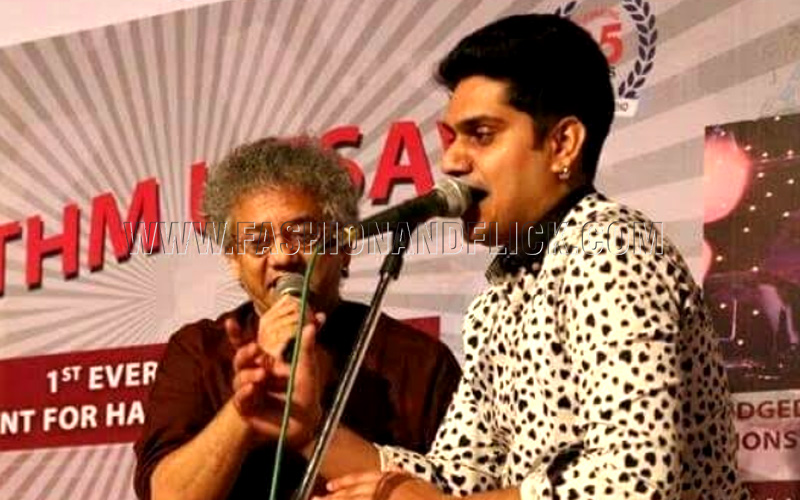 VESHESH THE PERCUSSIONIST & Dhintan Productions in association with Rhydhun Academy is coming up with Rhythmology- An interactive workshop on Rhythm. This workshop will be conducted by the National Award Winner, Veshesh the Percussionist with none other than the very talented Percussion maestro, Ustad Taufiq Qureshi. The workshop is being conducted for the promotion of World Rhythms in the auditorium of Alliance Francaise de Delhi on 22nd September 2018. There be an interactive session too where the audience can ask questions from both the artists and Audience will also witness both the artist performing live on one stage.
Veshesh is an artist who has dedicated his life to percussions. Music is the air he breaths. His energy and enthusiasm and the range of instruments played by him have today made him an acclaimed artist whole over the globe. Along with musical performances, jamming sessions with various eminent DJs and Artists, Corporate Shows and managing his own Studio, Veshesh is sharing his knowledge of music with the world by conducting classes and various workshops at varied schools and institutions.
Ustad Taufiq Qureshi is one of the most sought-after Rhythm Programmer, arranger, composer and Percussionist in the world. His forte is to play Djembe. The depth of his knowledge in the field of music has fetched him lots of love and recognition from all around the globe. Charging the world with his musical charisma and Sprinkling his musical expertise is his ultimate passion.
Well, there a little sweet fact about 22nd September which is that it's Veshesh's birthday. This idea and this initiative to promote rhythm as all other dimensions of music is extremely close to his heart and hence, no other date could be mor e appropriate to initiate it than his special day. This is just the beginning because every year Rhythmology is going to happen to be even better and bigger.