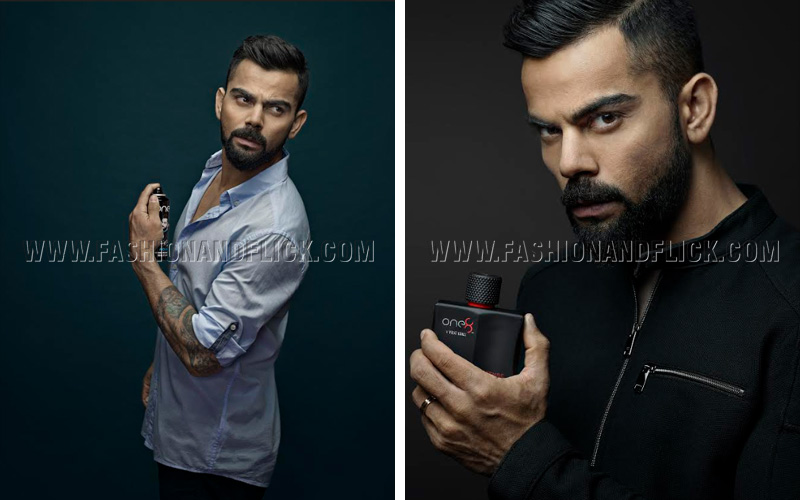 National, 3rd December, 2018: Regarded as one of the finest batsmen in the world, Virat Kohli is renowned for his aggressive and intense demeanor, whether on the field or in his brand endorsements. But, there is another aspect of his personality that the masses are unaware of. Through his brainchild One8 Fragrances, the sporting icon is giving his fans an insight into this hitherto hidden aspect: the playful, candid, light-hearted, and jovial Virat. One8 Fragrances is a culmination of all the unfamiliar characteristics of Virat's personality, a celebration of his philosophy and approach towards life – to be 'Always on'.
Crafted by the best French perfumers, the new fragrance line from One8 will be available in six variants – Aqua, Willow, Intense, Active, Fresh and Pure. The marquee product offerings by One8 Fragrances will include 100ml EDPs at Rs.1495, 200ml Body Sprays at Rs.249, 20ml Pocket Sprays at Rs.75 and Gift Sets at Rs.1650, Rs. 1850 and Rs.1925. The One8 Fragrance line aspires to provide consumers luxury at an affordable price.
Sharing an insight about the One8 brand, Virat Kohli said, "One8 is very close to my heart. Through the brand and its collections, I want to connect with my fans on a deeper level and give them an access to the candid and joyful side of my personality that has not been seen before. I want everyone to be closely involved in my journey, grow with me, and celebrate being fun yet focused, giving it one's all and living harmoniously without compromising. The launch of One8 Fragrances is an extension of this brand proposition – and of my personality."
Christened after the number '18' that belongs not just on his jersey but also holds immense significance in his life, Virat passionately believes in leading a life which encapsulates the essence of being 18 – young, uninhibited, liberated, and fun. It is this side of his personality which reflects in the brand and its collections, which are playful, spontaneous, and fun, yet determined and brave.
Along with expanding its horizons and catering to all demographics, One8 envisions to strike a chord with its audiences, stir them up to create conversations, and build a legacy through its collections. The brand holds a special place in Virat's life and he aspires to spread his ideology of being playful, lively, fun, uninhibited, and spontaneous through the vast collection of all One 8 categories.
Do let us know if you would need any further information.