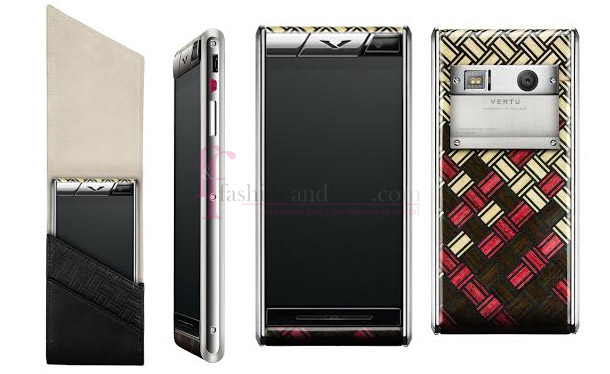 Luxury mobile phone manufacturer, Vertu, has fused traditional Japanese art with British craftsmanship, material innovation and contemporary design in a strikingly intricate and beautiful new product, Aster Yosegi Wood.
Vertu Aster combines hand craftsmanship and fine materials, unique services and cutting edge technology in the ultimate lifestyle smartphone, with the ability to individually tailor your phone via Vertu's personalisation service.
The limited edition Aster Yosegi Wood arrives in selected stores globally, priced from £7,200
Since the company's inception, extraordinary materials have been a fundamental feature of a Vertu mobile phone. In 2002, when Vertu launched its first phone, Signature, its sapphire crystal screen, ruby bearings, fine calf leather and stainless steel chassis instantly differentiated it from the mass market. Vertu has continued to pioneer the use of innovative and high-performance materials ever since. Now, with luxury technology more relevant than ever before, Vertu continues to lead the field, with rivals finding themselves unable to match Vertu's success in delivering the marriage of state of the art technology, world-class design and craftsmanship and pioneering, luxurious materials. Today, with the launch of Vertu Aster Yosegi Wood, materials expertise continues to differentiate Vertu products from every other technology brand.
Vertu Aster Yosegi Wood:
Yosegi woodcraft is a form of traditional Japanese marquetry which originated over 200 years ago during Japan's culturally rich Edo Period. Wooden strips made of Basswood dyed in different colours are carefully laminated together to form an oblong rod. Many rods are combined to form a large wooden block. The master craftsman then delicately shaves off a veneer layer, which showcases the intricate pattern that is characteristic of Yosegi.
To create the protective gloss finish on the veneer, up to six layers of lacquer are hand applied by master craftsman with repeated sanding and polishing, resulting in the exceptionally tough and beautiful glossy surface. This notoriously difficult and laborious process is shrouded in secrecy; only the most highly trained and dedicated Japanese craftsman are privilege to the nuances of the process.
Vertu's triumph lies not only in facilitating the marriage of this revered and ancient Japanese craft with its quintessentially English smartphone, Aster, but in developing a method to apply Yosegi wood to the phone. These two achievements are a contemporary celebration of Vertu's pioneering spirit in the realisation of new territories in design, materials and craftsmanship.