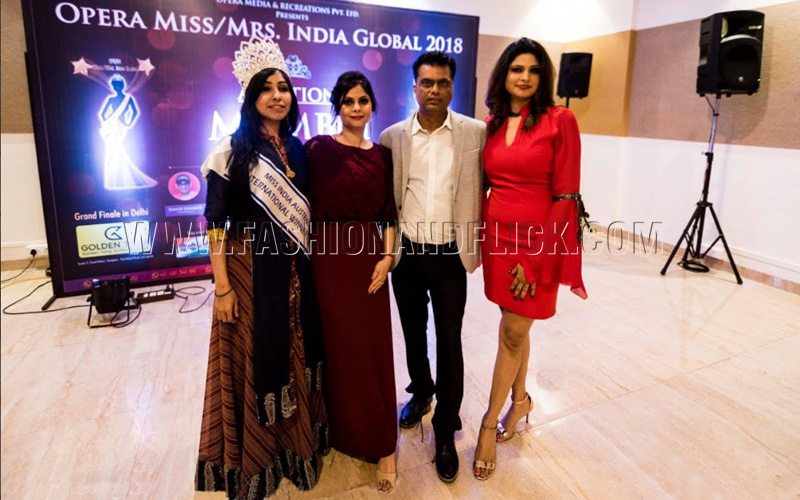 The Capital city is all set to witness the grand finale of Opera Miss/Mrs. India Global 2018 on 22nd September 2018 at Golden Tulip Suites, Gurugram. The event is the real contest with the real trademarks produced by Opera Media & Recreations Pvt Ltd. Opera Miss /Mrs India Global 2018 is supported by Hindi Gaurav that has existed since 2010 in Sydney and organises regularly many pageants every year in various cities of Australia.
The judges for grand finale are Bollywood star Neha Dhupia, Bollywood Lyricist Sandeep Nath, Bollywood movie producer Rakesh Upadhyay, media personality from Australia, Swechha Kulshrestha & Miss India Australia International 2018 Ankita Shetty.
Auditions were held in various cities for the selection of participants , out of 400 contestants best 41 are picked , now these participants will be trained and groomed by the best trainers in the country for the Finale . Opera is associated with famous Fashion Director and Groomer Chandrakala -Director of CHASA IDT Pune and Choreography will be done by Sham a well known choreographer . The fianlists will be flaunting costumes of various well known Fashion Designers of the city Neha Garg and Ashfaq Ahmad. Lakme Academy will be taking care of Makeup and hairdo styling of the contestants . Opera has also got an opportunity to support one of the most prestigious foundation in India CHHANV NGO an Acid attack society run by acid attack survivors. All the finalists have created a buzz all around and raised unblievable amount of funds through the tasks given to them as their part of training to support Chhanv .
Anuj Kulshreshtha and Poonam Gaur
The Mentor Anuj Kulshreshtha very famous media personality from Sydney Australia & Poonam Gaur Show Director of Opera Media & Recreations Pvt Ltd says, "We are super excited to bring the first ever International Beauty Contest from Australia to India. The Opera Miss/Mrs. India Global is a competition that recognises gifted women from across India. Unlike pageants that focus mainly on beauty , this contest emphasises on the talents, accomplishments, personalities, and the societal contributions of its participants- Opera is looking for Beauty with Purpose ."
The Pageant celebrates intelligent women from all walks of life. Our system is based on a solid commitment to uphold the standards of fairness and integrity. It prides itself in providing an avenue for each young woman to give a voice to those needing to be heard, lend a hand to those less fortunate, and be a compass for those daring to dream.