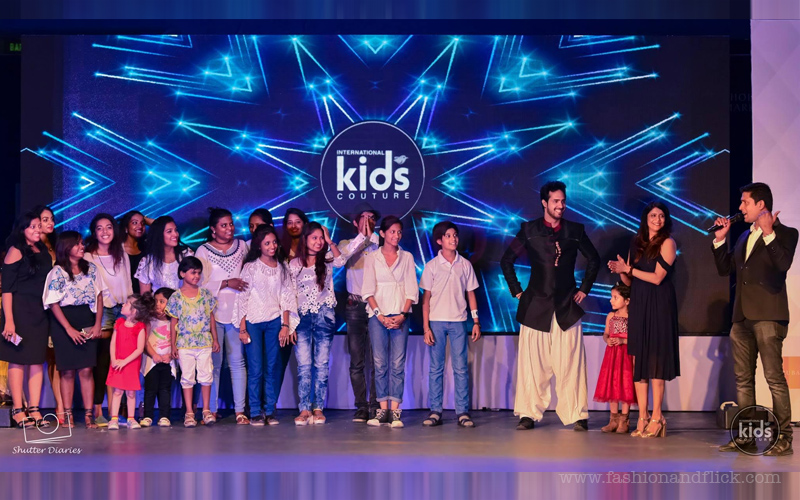 International Kids Couture 2017 presented an enchanting evening of children's fashion. IKC in association with Phoenix Marketcities has launched a series of fashion shows in their malls in Bengaluru, Mumbai, Chennai and Pune. The fashion show was tailored to bring out the eternal beauty of each participant. The showstopper for the evening was fashion blogger Shalini Chopra and Indian idol junior Winner Anjana P. Along with the kids cartoon character Brainy and Smurfette from Smurfs Lost Village walked the ramp.
More than 68 kids walked the ramp. Acclaimed kids brands such as BIBA, Mebaz, US Polo showcased their latest creations in this category. The kids were seen giggling, cheering and showing off with their talent while sporting their brightest smiles. Grooming Session for the event was done by India's first Kids salon Divas and Dudes. The International Kids Couture believes that every child is unique and special in their own way and they strive to bring out the best in kids by motivating them and building their confidence. As a part of the event, IKC also conducted workshop on 25th March to teach etiquette, build confidence, how to face the camera, be expressive groom and teach kids how to walk on the runway. The little fashionistas on the ramp left the audience mesmerized with their runway walk and gave a delightful experience to the audience. India Idol Junior winner Anjana P graced the event and it was a treat for audience to hear her melodious voice as she flaunted an outfit by BIBA.
Anu Basvaraju CEO of International Kids Couture said We are excited to launch first show for the series , it was enchanting experience and now we are all set for our next show in Chennai.
Speaking on the occasion for International Kids Couture 2017, Gajendra Singh Rathore, Centre Director, Phoenix Marketcity said "We are happy to provide a platform for kids to showcase their talent as children are the flag bearers of a prosperous tomorrow, and nothing pleases us more than to give them the confidence to achieve their dreams.