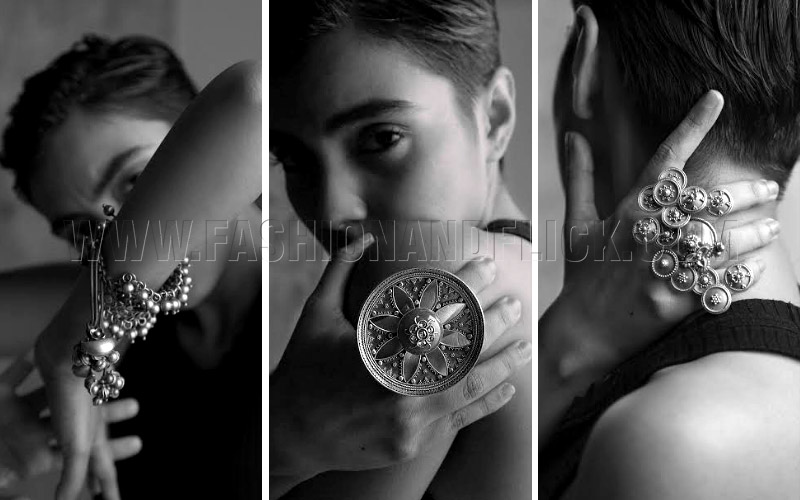 Lara Morakhia, who makes her Bungalow 8 debut this weekend, is quite literally an accidental designer. A doctor by training, she was forced to give up practice when a trekking accident left her incapacitated for over nine months. It was then that Lara, known in chic circles for her sumptuous collection of Indian art, channeled her creative energies into making jewellery. Blessed with a curatorial eye, Lara used her collection of old gold pieces, beads, antique and fine silver from Rajasthan, Bhutan, Gujarat and Himachal Pradesh, to make unconventional, extravagant jewellery.
Years later, when Lara walked into Bungalow 8, her favorite store, wearing one of her own creations, Maithili Ahluwalia was smitten by the striking pair of earrings. "When I found out that she had designed the earrings herself, I immediately invited her to collaborate with us," says Maithili.
Lara has created 56 pieces of opulent jewellery for Bungalow 8, taking inspiration from sources as diverse as royalty and tribal art, architecture and traditional Indian costumes. Gleefully self taught, refreshingly unselfconscious, Lara will tell you how she has never sat down to sketch any of her pieces. "Once I see something, I know immediately how to use it," she says. A statement necklace for instance, features a Nepalese Mahakala face on a traditional Rajasthani Hassli with a hint of diamonds. Leather tassels at the ends of the necklace give it a touch of stylish irreverence. I wanted to use the Hassli In a different form so that you can wear it from behind and let it float in the front, slightly off center even, she says of the stunner. Similarly a statement cuff ring has been created by reimagining a cluster of small earrings and discs to create: One fabulous look.
Lara struggles to explain her creative process, and plays down the ingenuity by ascribing it to 'just intuition and passion.' But a look at another stellar piece in the capsule, the Sun Burst Earrings, constructed with old beads and ear tops, reveals a story of confidence and dexterity that is perhaps rare in an untutored talent. Unfettered by convention, Lara uses her own creative vocabulary to mix and match somewhat familiar elements in an unfamiliar
way. Which is why you will rarely find two pieces of jewellery in her collection looking alike, even though they may share elements or a theme.
Bungalow 8 is synonymous with turning convention on its head, which makes this collection a perfect fit in its repertoire. What I like about Lara is her spin on traditional silver jewellery. The pieces are versatile – you can wear them with a ganji or a kanjeevaram – artisanal and yet sculpted with technical finesse. There is a certain controlled energy that has gone into the making of each of the pieces that will probably take everyone by surprise, especially when you consider that she is an unschooled debutante, " says Maithili.