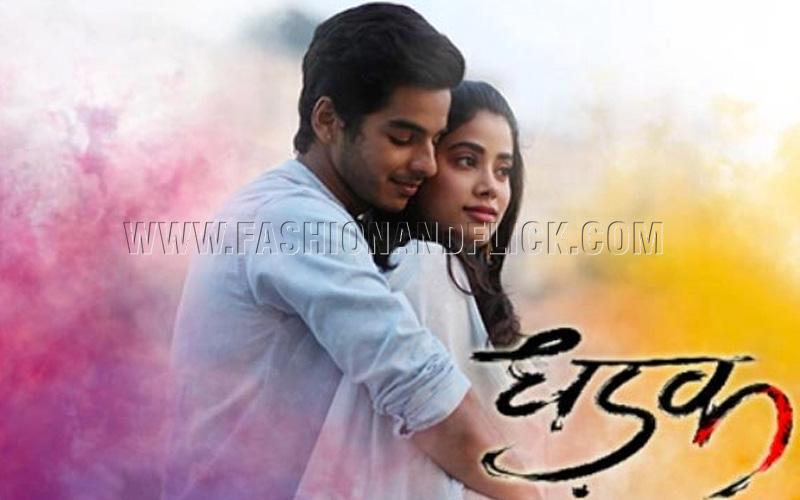 Ishaan and Janhvi goes for their Best.
Cast: Janhvi Kapoor, Ishaan Khatter, Ashutosh Rana, Kharaj Mukherjee, Aishwarya Narkar
Producer: Karan Johar
Director: Shashank Khaitan
Rating: 2.5 / 5
Dhadak is an official remake of Nagraj Popatrao Manjule's critically acclaimed Marathi blockbuster 'Sairat'. But what made it unique on Indiaís cinematic landscape was that though it placed the gravity of casteism firmly at the centre of its narrative, it was an unapologetically commercial film with a determination to be viewed as mainstream and massy, complete with glossy packaging, striking visuals and Ajay-Atul's fantastic, cheerful songs.
The story starts as Parthavi (Janhvi) appears in Madhukar's (Ishaan) dreams. Later Madhukar (Ishaan Khatter) catches first glimpse of Parthavi (Janhvi Kapoor) through a food-guzzling obstacle course. They belong to Udaipur, Parthavi is the daughter of hotelier and local politician Ratan Singh (Ashutosh Rana); where as Madhukar is the son of a restaurant owner.
Love blossoms between the two comes little too quickly. After romancing on Dhadak, Pehli Baar & dancing on Zingaat, the first kiss between them finally happens. It doesn't reach its climax though because Parthaviís family comes in between as soon as they finish their kiss. This raises the trouble for the young lovers.
In order to deal with the situation they had to run, moving through Mumbai and Nagpur and settling in Kolkata. There they start to build a new life, renting a tiny room, Madhukar working as a waiter, Parthavi as a helpline employee.
The script by director Shashank Khaitan (Humpty Sharma Ki Dulhania, Badrinath Ki Dulhania) may well have been titled Madhukar Ki Dulhania. In this epic love story, Ishaan is the genuine star. In the first half, his comic timings are ingenious and later towards the second half, you literally flow into his emotions and genuinely feel bad for the situation he had to face. On the other hand, we have Sridevi's daughter Janhvi who has to bear the brunt of the most judgements, she has the shades of a true blood star in the making. Her screen presence is undeniable and she has the old world charm attached.
Overall Dhadak is an excellent piece of filmmaking with captivating performances from Janhvi Kapoor and Ishaan Khatter. It is Bollywood commercial cinema at its best. I would suggest you to go for the movies this weekend.
Movie review by : Anupama