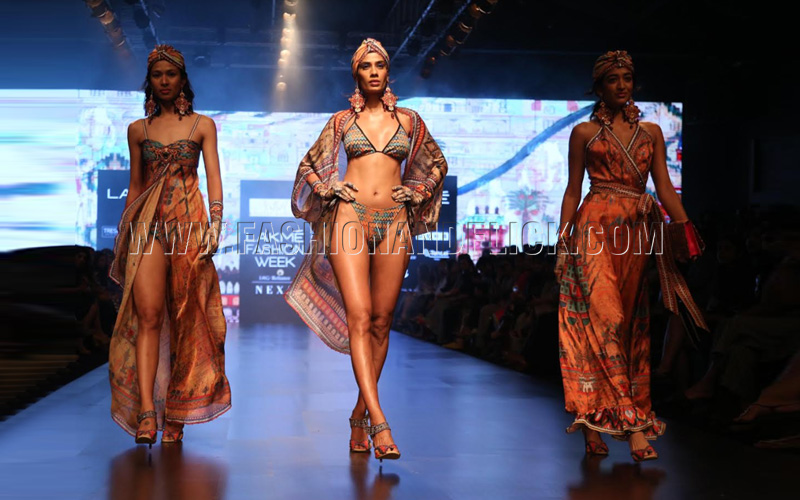 Mumbai, February 2019: Rajdeep Ranawat, Delhi Based designer showcased his latest Spring Summer Resort collection- 'Istanbul', at Lakme Fashion Week S|R 19 on Day 3. The collection was Rajdeep's very own take of this crusty and lover like a city that has been poeticized for centuries by so many.
Istanbul, the magical city where the continents collide, invites you in with its bright and shiny aroma of the seas and the threads of history intertwined with numerous cultures! The designer described the city of Istanbul as a dream that gently folds you in its midst as the twilight twirls around and then jolts you to awareness with its air, color, and affection.
Using the ethereal strain of its magic, Rajdeep Ranawat gave six distinct divisions in this collection to brighten up every month of your summer and whisk you on a magical journey. Just like Istanbul, each collection has its own strong individuality as it captures the essence of this legendary city.
The collection showcased represented an entirely new perspective on Istanbul! The garments were fresh, elegant & stylish! Rajdeep Ranawat collaborated with PAIO for a refreshing take on the luxury resort shoes which are an extension of the Istanbul collection itself. Embellished in dazzling Swarovski crystals and beaded in Japanese pearls, the shoes were sexy, vibrant, luxurious and comfortable at the same time.
Rajdeep Ranawat
One saw a look representing the graceful arches of Istanbul's innumerable mosques, the other took a look back at the opulence of the Sultans from the Ottoman empire. And just as you submerged yourself into these, the salty tang of its Bosporus called out, bringing in mind the numerous odysseys that began and concluded here.
The designer, Rajdeep expressed, "Istanbul is a bad romance for those who have been there once. You cannot give up loving it, there are so many times when it disappoints you or puts you out of temper. With this collection, I wanted to represent this ancient city of love, loss, and betrayal. And it was a great experience, showcasing the collection in LFW, I am obliged by the response I have received here, it was absolutely heart-warming to see the people appreciate my collection!