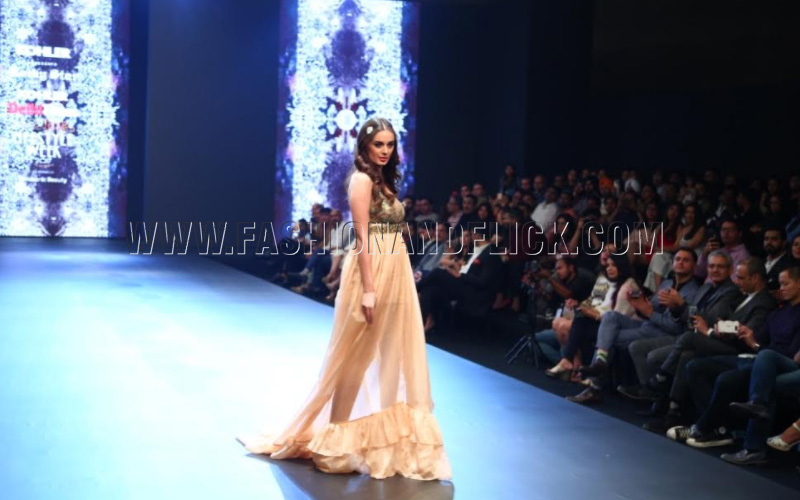 New Delhi, November 3, 2017: The Delhi Times Lifestyle Week in association with Kohler and Panasonic Beauty commenced with the crème-de-la-crème of the fashion and lifestyle world such as Koyal Rana (Miss World Asia 2014), Neelam Pratap Rudy, Nitibha Kaul, Aashmeen Munjaal, Thenny Mejia, fashion designer Amit GT, Gautam Gupta, Dhruv Vaish and others gracing the extravagant event. Day 1 witnessed the showcasing of limited edition collections by celebrated designers like Mandira Wirk, Samant Chauhan and Rocky Star. The surprise for the evening was gorgeous actress Evelyn Sharma who walked the ramp as the showstopper for designer Rocky Star.
Dressed in a rose gold outfit, Evelyn set the stage on fire with her super stylish looks. The collection presented by designer Rocky Star was a blend of old-world charm with new-age magic in the manner of dramatic silhouettes, decorative prints and bold designs. Models Laxmi Rana, Sonalika Sahay, Candice Pinto, Deepti Gujral, Donna Masih and others dazzled the stage and mesmerized the audience as they walked the ramp showcasing the work of the designers. While designer Mandira Wirk presented her 'Pastel Romance' collection with each outfit carefully detailed and accessorized with hypnotic colours, ambitious designs, yet minimalistic esthetics; designer Samant Chauhan's collection was an ode to the blank canvas, to total art, to self-actualization and to free art that one can see from the streets as well as to all those metaphors for life and light.
The premium lifestyle week will conclude on November 3, 2017 with spectacular shows by designer's Siddartha Tytler, Pia Pauro and a grand finale by Falguni Shane Peacock. With such celebrated designers in the line-up, the Delhi Times Lifestyle Week will close on an enthralling note.