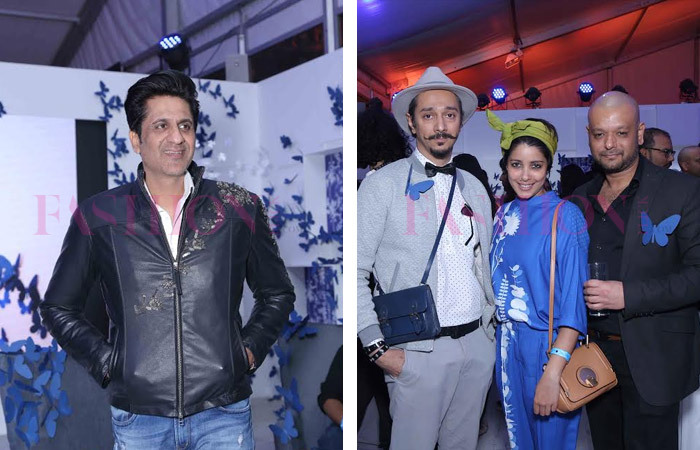 New Delhi, March 17, 2017: Satya Paul announced the launch of its first ever pret' label 'Club SP' at an event hosted at Amazon India Fashion Week Autumn Winter 2017. The new pret' line of the brand also includes a capsule from the designer Nida Mahmood. This collection is immediately available to buy exclusively on Amazon Fashion signifying a major shift towards online shopping through See now, Buy now concept.
The new brand from Satya Paul, Club SP caters to the modern Indian woman looking to follow trends without compromising on her comfort and sensibilities. Using some of iconic Satya Paul prints and colors, the label offers leisure, work and evening wear selections. The ready-to- wear line offers choice of wearing the styles in multiple ways in colors that are lush and soft mixed with bright hues. The collection offers 100 distinct styles with 20 ensembles from the designer Nida Mahmood.
The launch soiree witnessed a camaraderie of like-minded guests who appreciate finesse in fashion such as Poonam Bhagat, Azmina Rahimtoola, Sabina Chopra, Narendra Kumar, Masaba Gupta, Rakesh Thakore, Rohit Gandhi, Rahul Arora, Suneet Varma, Designer Pawan Sachdeva, Nitin Bal Chauhan, Anupama Dayal, Charu Parashar, Rashi & Gautam Bhimani, Tarina Patel, amongst others.
Commenting on the launch of Club SP, Sanjay Kapoor, Managing Director – Genesis Group said, "This is the start of an exciting new chapter for us at Genesis Colors with the launch of our new brand Club SP and we are very certain that this capsule collection designed by Nida will help us reach the right audience with some iconic designs in the making. We are glad to be associated with Amazon Fashion which offers the right synergy online for the brand, and also gives the collection an immediate nation-wide reach giving customers an easy access.
Known for her distinct designs and eclectic usage of colors, the designer Nida Mahmood puts her design aesthetic in her capsule collection for Club SP that includes 20 distinct styles from her.
"I would like to speak about the sensibilities of both the brands and how both of them marry perfectly. I believe the creative prowess of the design world combined with the business acumen of the corporate fashion houses can create really impactful partnerships. And I am really positive and excited to start this journey together," said Nida Mahmood on the collaboration.
Arun Sirdeshmukh, Head, Amazon Fashion, added on the exclusive launch, "We are excited to be the preferred choice of partner for Genesis Colors and Satya Paul to simultaneously launch Club SP label on Amazon Fashion exclusively. There's an increasing shift towards consumers wanting to buy latest fashion instantly and that too from the comfort of their home. This is where Amazon Fashion plays a significant role and we are glad to have plugged this gap for our customers by offering 'Fresh New Looks' every time they visit our store. We will continue to work hard to offer the widest possible selection of top fashion brands and designers to offer a superior customer shopping experience for fashion".