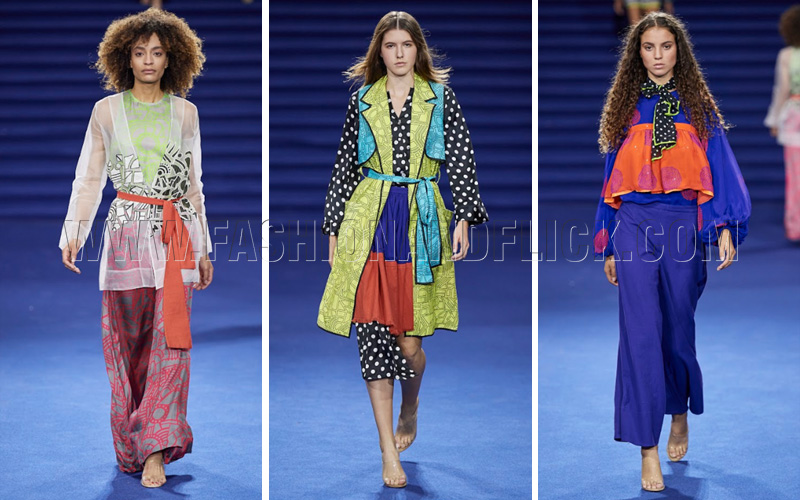 Bangalore based designer Parinitha MN recently showcased her collection at Paris Fashion Week. She was the only designer from India at the Paris Fashion Week SS20. While talking about the design she said "It started with me wanting to paint my room. During one of my meditations I had a vision of two semi-circles, a little displaced. This image is what I started painting with and gradually built on it by just filling the space up with shapes. When I was looking for inspiration for my next collection I realized I'm sitting in it, literally. So I developed these into prints and digitally printed them on fabrics.
The colours for these printed patterns are inverts of each other. Black and white, Pink and Green, Yellow and Blue, Purple and Orange, depicting our alter ego. The prints are digitally printed on satin linen, cotton satin and linen. I've used organza to add a transparent dimension to it. I've used khadi predominantly in this collection. Sequins find their place too, depicting the magic we hide inside us and we need to shed some light on these hidden parts of us. I've used the insides of snap buttons on my garments, thread tassels, bold piping's, hems are unfinished, left raw. I've used appliqués and stitch lines as well. This collection was built along the way, had the most amount of changes through the course of it and that's the best part.
Lastly she added this collection is very close to my heart and showcasing this at Paris Fashion Week was absolutely surreal. I'm still finding it hard to believe that it's actually over. When I walked out, people were cheering and saying that it was really amazing and so nice. Hearing such live feedback was the most rewarding experience.
Also it is about letting the artist in me come out and play and I hope I inspire someone else to do the same".