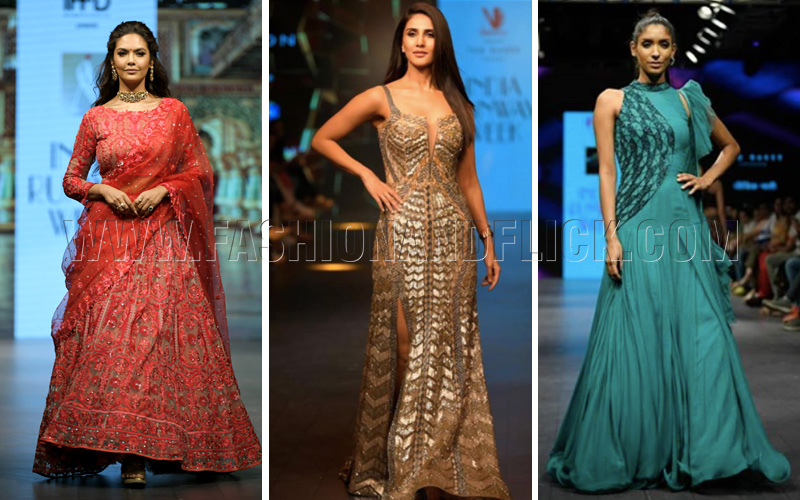 The much awaited Season 12 of IFFD's India Runway Week- Season 12 started with an ode to handlooms and showstoppers like veteran actress Neelima Azeem and Vaani Kapoor graced the ramp.
Day 1 of IFFD's India Runway Week, Season 12 kickstarted with the Jaivik Naari's handmade collection. Paying tribute to Gandhi ji and October month the collection was all about make in India. The collection was "Gulbadan" which means delicate, graceful but yet fierce as Babur's daughter Gulbadan. To justify the theme the brand had real women walking on ramp instead of models in hand made sarees. Some women achievers like Dr Chinna Dua, Mamta Gupta, Pooja walked in tussar and linen sarees. Whereas, the veteran actress Neelima Azeem performed the opening act in classical dance.
Next show was of Newgen designers where Designer Rasleen Kohli showcased collection "Eternal Nature" expresses an emotion of love for nature , which has been beautifully expressed in the garments through hand embroideries , silhouettes and draping . PRIYANKA CHOUDHARY 's collection themed "OLD IS GOLD" was about how to old fashion with their best designs. House of Archana's Collection 'Maktub' written is inspired by the influence of planets on our lives & the way their govern our destiny. Designer Vinay Saurabh showcased collection themed "Blooming Bud". He shares his eztreme brilliance in India wear infused with western wear. Jasleen Kaur's collection was an ode to Indian streets. Using ethically sourced linen, working with underrepresented crafts groups, silhouettes that are tradionally associated with street wear. Aastha Kaushik's Bold Style, Clean Cuts and Strong Colors was the biggest giveaway.
The third show of day was of the upcoming designers Devi Muthukumar, Mona Vora and Tanushavy. Devi Muthukumar's collection " Chromic Bliss" was an inspiration from the traditional mughal arts- bringing in the opulence & luxury elements. Mona Vora, A London based designer showcased her sensuous collection .Mona Vora's elegant and feminine designs are beautifully blended with contemporary silhouettes and subtle chic embroidery details. Tanushavy's collection was about Very delicate & intricate work, hand crafting processed products from those regional craftsmen, bringing their ancestors to today.
The evening show at 7pm , showcased collection of designer Nikhita Tandon which was all about evening gowns with modern cuts and floral headbands , the collection was accessorized by Ted Baker Watches and actress Vaani Kappor walked the ramp as a showstopper.
The day ended with an ode to handloom again by Peeli Kothi by Ambica. Peeli Kothi showcased richly textured sarees. The colors were vibrant and yet very classy. Whereas , Saaj by Ankita closed day 1 with her collection "Twilight Saprkle".
DAY 2 of India Runway Week- Season 12 was about celebrating LGBTQIA by accessory designer Akassh K Aggarwal followed by Bollywood Diva Esha Gupta gracing the ramp for Aayana by Siimi.
Day 2 kicked off with the first ever Ethical Design Challenge where one winner was selected out of 8 young designers from all over India who won the financial support for next season as well as bagged a sponsored show by IFFD. Sahiba Aggarwal won the Ethical Design Challenge 2019.
Then accessory designer Akassh K Aggarwal showcased a strong accessory line themed "Silent Stories " is a collection of designers expression of LGBTQIA+ Community Existence and the struggle of acceptance. The collection was Vibrant that Resonates with the Symbolism of Old Tribal Art of PEROI and terrecota, banarsi meena work, wood karigari from Kashmir mixed techniques in filigree motif, stamped light weight metal sheet work, embossed 3D and Metallics Gold & amp; Silver with ORGANIC Gemstones like CORAL PEARLS TURQUOISE LAPIZ LAZZULI ….Assortment of Multiple Accessories Options, gives the collection a versatility to be worn on ethnic as well with IndoWestern , The time is about to be Jeweled Bold & Beautiful.
The evening started with Aayana by Siimi's festive wear, finely crafted pieces with lucknowi work, thread work and Indian craftsmanship were seen. Collection which was pre bridal, bridal wear collection was presented. Bollywood Diva Esha Gupta closed the show for designer Siimi.
Young Budding Designers lined up late in the evening at 7pm where Lumegee by priya ghosh's collection themed " Morning Bliss" was all about Morning time refers to calmness, quiet and the serene environment. White colour represents purity and calmness. Designer VIJAYA KRISHNA showcased minimalistic collection which was an amalgamation of classy and elegeant designs. Delhi based designer Purnima Gulati showcased her collection called 'The Blue Eye', the collection was a blend of interesting silhouettes and amazing styles with a distinct look and precision as they portrayed ultra minimalism with maximum comfort. Bucolic by Rituvan Gupta showcased an Ecstasy of emotions stitched in mortal garments. From Couture to Pret. creating clothing which are effortless with fresh combinations inspired by fine and detailed Indian craftsmanship.
EKAM BY MANISH GUPTA showcased at the day finale. His collection themed "Grazia Di Essere Autore" –Grace of being self. Beyond the world of memories and dreams, the collection is influenced with lot of bright and happy colors overpowering the grey mood of the past just like the emotions that the women at EKAM as experiencing. The styles are structured as the goals that are to be achieved with fluidity in silhouettes expressing freedom and comfort at heart. The second designer of the day finale was Poonam Dubey's, her collection themed "jharokha" the collection has been inspired by ancient Indian architecture and elements of jharokha (window) has been used widely in the collection. The window has been depicted with the technique such as cut and patch work along with mirror hand embroidery to create a carved look of the jharokh as the designer is keen to promote Indian textiles she has used khadi at a wide scale and organza too.
India Runway Week dedicated its DAY 3 of Season 12 to breast cancer awareness in collaboration with Avon. The entire event turned into pink with select city walk turning its lights into pink and India Runway Week into pink.
The day started with the breast cancer awareness Panel discussion where Dr Meenakshi moderated the discussion and Chinna Dua, Dr Ambika Anand, Opel of Opel Foundation (breast cancer NGO) and Jagjit Kaur ( Cancer survivor) were the panelists with Avon Marketing director , Swati Jain. Many cancer survivors, women, Surgeons, Doctors joined the discussion. It was a first of its kind initiative ever by any fashion event and India Runway Week is the first to talk about the cause in collaboration with Avon.
Then the day started with Avon presented designer Anupama Dayal who showcased her pink collection for the cause with around 25 cancer survivors walked for her along with few other female entrepreneurs walked for her to support the cause.
In the afternoon, Deepthi Ganesh showcased her bridal couture collection titled 'Adah'. With her Adah Collection; a recreation of an Exotic Royal Indian era of grandeur, splendor and beauty of royal Indian palaces. The floral n faunal motifs and combinations of several other motifs from the artistic carvings gave great aesthetic pleasure. Ramnik Pahwa's Collection named "शण" .With this collection the designer showcased her collection by using a pure Indian fabric, Jute for preparing her collection. Designer Jenny Saluja showcased her collection called 'Twilight Beauty' which was a recreation of different fusion of wraps and drapes with the scales of snakes used as Surface Ornamentation.
The evening show kicked off with designer Miku Kumar who showcased her collection called "Legends of the Sea" owing to love for sea, nature, flora and fauna. Ari work and zardozi handwork techniques with some very different cuts and motifs were seen. NB COUTURE is a brand that pays tribute to women and femininity. Each piece was worked on with masterful cuts and lines representing amalgamation of chic and posh. The beach resort wear mix collection by NB couture was a perfect blend of stylish gowns, jumpsuits and dresses.
The Grand Finale of India Runway Week- Season 12 was by designer Nida Mahmood. The collection was a delicate mix of handlooms, khadi and mercerized cottons with subtle polka dots and stripes, heady textures and a dash of embroidery teamed with delicate laces. The collection is 100% swadeshi and epitomizes the feisty quintessential Indian Girl who is powerful and bold.