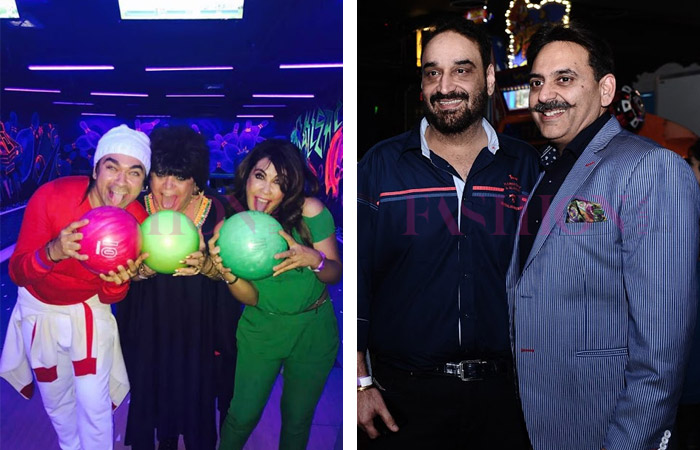 Now, Delhi has got a new world of entertainment and fun for your family. On 16th feb 2017, The Sports Diner by Hang Out at Select Citywalk, Saket welcomed & opened doors to a new place to Eat, Drink & Play. It was an evening full of fun when people of all age group were spotted enjoying the foot tapping music, sipping on their drinks while displaying their bowling skills, shooting pool, playing electronic darts & trying out the latest in Virtual technology at the VR Zone.
The evening was hosted by Manoj Mehra & Vandy and whos who of Delhi were seen enjoying and grooving including Atul Wassan, Anjanna Khuthalia, Nasser Abdullah, Rajiv Makhni, Sanjay & Rashmi Virmani, Slvyie, Vandana Vadhera, Amit Talwar, Monika Malik, Bhavna Reddy, Bobby Chawla, Reshma Madaan, Kajli Sehgal, Vaishali Rai, Mallika Jain, Anurag Jacob and Nilofer Hussain among others.
According to ShaliniVij, Founder & Director- Hang Out."The Idea behind The Sports Diner & Hang Out kids, was to keep the moms, dads, teens & tweens & young adults entertained too, while drawing the fine thin line and barrier by separating the two floors keeping in mind their difference in preference in gaming & their entertainment needs & yet bringing in a comprehensive and complete Family entertainment Center.
This new place is full of uniqueness which gives you many game options to play around but the The VR Zone and Neon Bowling Arena are the special attractions of this entertainment zone. The VR Zone-brings in a 360 degree turning roller coaster that replicates a real rollercoaster. The VR Roller coaster simulator is full motion cockpit, where riders can program their own journey by selecting track pieces. Bowlinf Arena is the 1st black light arena bowling with UV lights, neon balls, black light reflecting carpet, lanes, capping, side painted walls to give you the 1st of its kind neon bowling experience as its 2nd segment called the Hi Lanes Bowling, with 4 lanes each catering to 6 players with full seating capacity & service & party area
The place has great food with some signature dishes which are worth a try. Not to forget, the fully stocked bar made of individual wine corks and changing LED light pillars.
So guys, go and check the place out and you will enjoy every minute spent there!