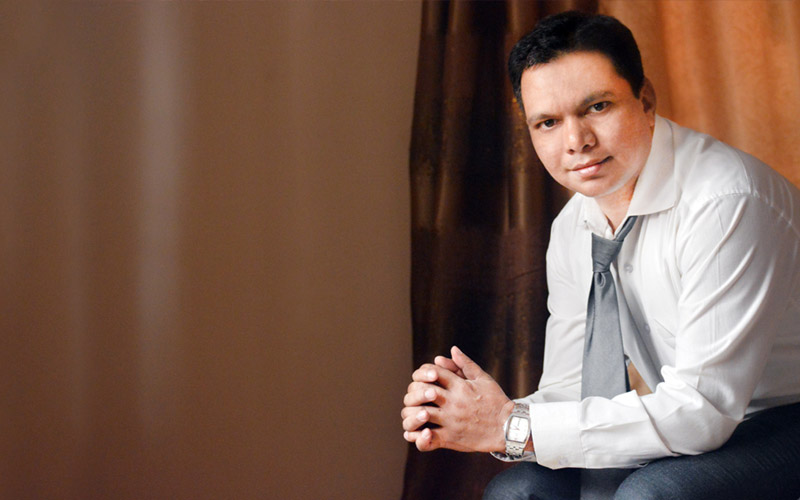 Zulfi Azad is the Creative Director of Plan Media Private Limited, a marketing and advertising company based in Delhi and working for many big corporate houses in India, UAE, AFRICA & UK. He is the one who is responsible for the branding and positioning of the company since last ten years, not only in India but abroad too. As we say, God help those who help themselves, this man has exactly proved that and has marked that nothing is impossible if you have a big aim in life. Let's walk through his journey with this one-to-one conversation.
Q1. – Tell us something about your early life.
A. I belong from a small city Jamshedpur, Jharkhand. After my schooling, I came to Jamia Milia Islamia for doing engineering. But, I wasn't getting satisfaction. People around me thought that I am mad but here I learnt that to feed stomach and achieve success one cannot be limited to big degrees like engineering or medical. There has to be some extra talent. And I was lucky that I found that extra talent of acting in me at the right time.
Q2. – So have you ever thought of making your carrier in acting field?
A. No, I used to do it as a hobby only. My college gave me a platform to showcase my talent, winning Mr. Fresher contest boosted my confidence and I started enjoying it. As I was from a small state and at that time it was stamped with Bihar, people used to take me for granted. But when appreciation started coming, it gave me fun and enjoyment and when I started theatre, it made me feel that I should leave engineering dream and run behind my hobby. I had started doing production side by side with media course.
Q3. – Is it true that media have no ethics today? Don't you think it is harmful for the public?
A. It's a debatable issue. Media is known as a fourth pillar of the society, but today it is working more as a business house. When I joined a reputed channel at a junior level, I realized that it's all about the money game. There is money to start news and to stop it as well. There are ethics but only at limited level afterwards it's only a game played by all big names. Being a citizen, it is our responsibility to upgrade ourselves and be aware whether particular organization is media house or a business house.
Q4. – Any bad experience or bad situation which you want to share?
A. I can't talk about a bad situation but I had bad experience in life and I consider myself lucky for facing that experience because what we think is bad is not actually that much bad.
Once, I was organizing an event. It was a big event and everyone was allotted their work respectively. One of my colleagues who was working with us thought that everything will work according to him and he will manage everything. He did all the work verbally to promote that event but he forgot to place hoardings, mentioning about the event. Since the advertising hording were not placed, it led to heavy loss for the sponsors. To compensate that loss for the sponsors was quite tough, but we had to manage anyhow. You won't believe, at that time, somehow I arranged money and gave it to them. It was very difficult for a person like me who had such a low background. That time it came as a question mark on me that I could've executed the project on my own but I left it on someone else and this was the result. After six months, I again organized an event in Ahmedabad, it was a big event and all big news channels were invited to cover it. It was quite a good and profitable event and I proved myself there only. That event was a huge success and I got appreciation for that too. I became more confident that I did it and even till now I am confident that I can do anything. Whatever I do, I do it to the best of my knowledge.
Q5.– Where you see yourself in the coming years?
A. 'Sky is the limit for me'. Since I was from a poor background, my friends are just like me only. Earlier, when we used to go in any party, those people were from a high class society. We used to very conscious that how people will think about our standards if we behave immaturely. But now, I want to throw a party, a party which will exactly suit our standards, where my friends and I will be the host, free from all kind of consciousness or awkwardness, shouting and laughing without taking into account that what people will think or say. I just want to live on my own terms and conditions.
Q6. – Do you have any future plans?
A. If you ask about future plans, 2-3 new ventures are there. It will be very early to say anything right now.