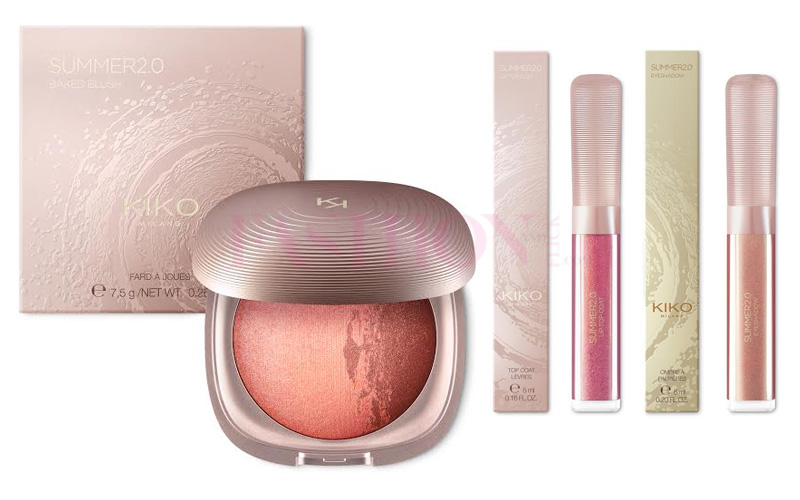 Summer 2.0 is a collection inspired by summer's symbols, colours and warm atmospheres. The style is elegant, romantic, passionate, with references to the elements of earth and fire.
The charm of Summer 2.0 is revealed in the personality and in the look of the wearer. The complexion is perfect, reflecting radiant dashes of sunshine. The skin looks tanned, enhancing an intense gaze marked by bright, vibrant hues. The lips are magnetic, in full-bodied, matte shades and embellished by the metallic effect of the collection's top coat.
The packaging is the work of the renowned designer Ross Lovegrove,​​ who drew his inspiration from the world of nature. The multilevel surface of the packs results in a play of light that evokes the sparkle of sunshine as it dances on the waves. Their lines are reminiscent of the sinuous movements of the sand dunes, the veins of shells, or the grooves carved by the wind on rocks. The pattern on the surface offers a new tactile and visual experience that makes the products uniquely sophisticated and, at the same time, easy to find in a purse or clutch. The products' satin rose gold hue echoes the warm shades of summer.
Lovegrove's design for the Summer 2.0 collection is modern ad sophisticated, like a car or a skyscraper, but with one important difference: KIKO products can comfortably fit into one hand. The make-up products of KIKO's new summer collection are the ideal travel companions;fantastic treasure chests of beauty to be taken everywhere.
Make-up is an art to be applied. Through the renewed collaboration between KIKO MILANO and Ross Lovegrove, make-up products once again become precious designer items. As always, art that conveys art.