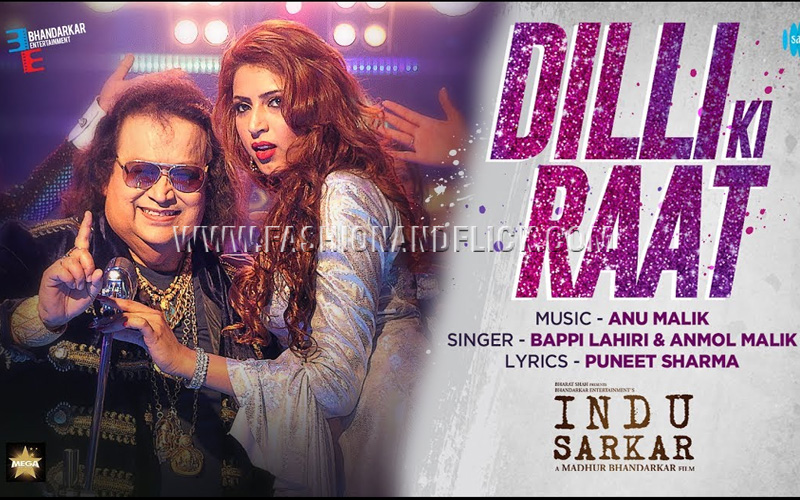 Ishika Taneja, Miss Tourism India 2017 and Guinness World Record holder has once again rocked the beauty & entertainment industry with her phenomenal debut song Dilli ki raat for Madhur Bhandarkar's upcoming movie Indu Sarkar. Though with the release of its first trailer the movie has gathered steam over the 'emergency' subject, the song Dilli ki raat has taken the social media by storm and getting amazing response.
Ishika Taneja, who did her debut in the song, is also getting a lot of appreciation from the cast as well as from the audience, for her astonishing looks and performance. "I am so thrilled with the kind of response I am getting for my song and performance. As I am born and brought up in Delhi, it was easy for me to get connected with the lyrics and groove into it. The song is doing amazing as it has got 70's touch. The disco king Bappi da has made it melodious and thanks to him it in the list of top chat buster songs", says Ishika Taneja while expressing her contentment over the recent release of her song.
Ishika Taneja also gushed over the words of appreciation & adoration for the film director Madhur Bhandarkar, "Starting my career with none other than but Padma Shri awardee director Madhur Bhandarkar is like a dream come true. I feel blessed as it could not have been better than this. He is an amazing mentor and has helped me polish my skills."
She further expressed her happiness working with the disco king, "It was a truly fun and learning experience to work with Bappi da. He is such a gem of a person. He motivated and helped me throughout the shooting and I am very thankful to him. "
<iframe width="560″ height="315″ src="https://www.youtube.com/embed/pF9HmEOTMQY" frameborder="0″ allow="accelerometer; autoplay; clipboard-write; encrypted-media; gyroscope; picture-in-picture" allowfullscreen></iframe>
While raising her concern and discontentment over the controversy over Madhur Bhandarkar's Indu Sarkar, she stated "It is sad to see such uncalled for controversies. Madhur ji is such a marvelous director who has always impressed us all with his deep movie subjects and stories. His movies always highlight major issues and are an eye-opener for the society. I agree people have freedom of speech, they can like, dislike or share their opinion but, protesting, threatening and creating ruckus is something which is completely unacceptable."
Ishika Taneja hopes the controversy to end soon. She will also be seen in Vikram Bhatt's upcoming series. She will be the lead actor in the series and said to disclose the deeds of the project very soon.